Tweetbeat Firsthand hovers somewhere between subtly amazing and "meh". But I've giving it a whirl.
What it is, is a browser plugin/extension (works with Firefox, Chrome, and Safari… there is some irony about the other browser shrinking in the mist of obscurity).
What it does is to figure out in the text of a web page, the name of something that has a twitter account, and it places a little "t" icon into the web page. For example, on a recent post here about open courses, Tweetbeat identifies George Siemens from the text in my article:
(I cannot explain its ability to identify George Siemens as having a twitter account but miss Stephen Downes (@downes— it opens the door for some George vs Stephen fun, but let's move on).
So it lets me know, when looking at web content, who the companies and people are with twitter accounts. That's not really compelling. But what is– is when you hover over the "t", and it loads the latest tweets from that person: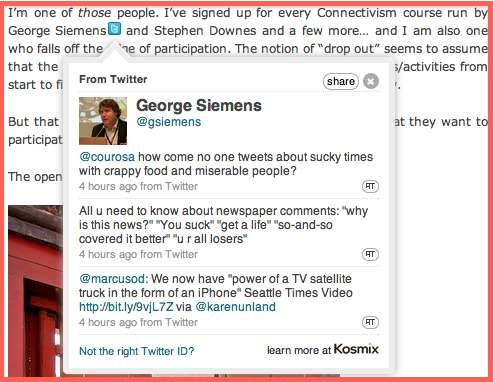 Hmmm, that gets more interesting. Gets me activity streams on people and companies in any web content. Then from the Tweetbeat box, if you click share—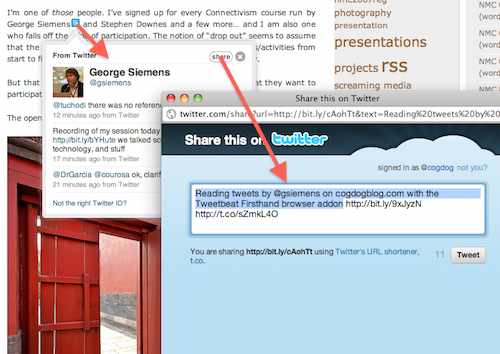 So this uses the new Twitter Tweet this functionally to say "I am tweeting about seeing George's twitter stuff in this web page."
One more click- where it says "learn more at Kosmix" — gets you to an entire page about George that seems to be assembled from many bits of Georgeness out there– from Wikipedia, YouTube, Digg, Howcast, Google Blog Search, and more:
Semantic or not?
Well that's all nice for George, but what about me?
My listing in Kosmix seems to mash me up with a baseball player and a doctor from Louisiana… I do a little better searching for CogDog, but its still awry. (I am looking at the ads and wondering about my cousin Larry (Levine) and his polyester pants… but Alisha Levine is lookin' HOT.
I guess it pays to be George ;-)
I'm not 100% on the long term value for using Tweetbeat Firsthand, but the relationships it draws, even when not 100% correct, is an interest way to link by assumption or known relationship.
What do you think? Keep or eject?