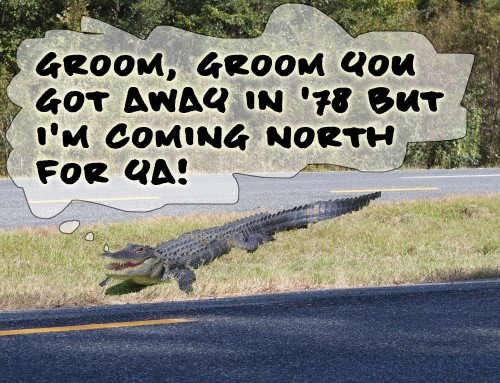 During my drive into Florida today I caught the last bit of Michael Branson Smith's great Horror Cast for ds106 and I really enjoyed hearing the voices of his students. I get the sense they have bit off fully on the ds06 experience. The theme was horror stories from the classroom, bad things teacher and students have done that may cause a shriek in the night breeze.
Jim Groom came on and shared his true life story of (?) grade school, where his teacher Mrs Lizardus apparently show her true form and mass attacked the students as the lizard she is. The body count was high, but Jim said he survived by quick thing and busted out a window.
While stopped by the roadside, I noticed the grass in the media was moving more than just from the breeze, and managed to catch the brigade of gators heading north to extract their revenge.
Jim, I suggest locking the doors and getting that lady from across the street to guard your house. The lizards are coming, the lizards are coming!!!
This must be some form of a spubble, directed at someone else.
Fun.