Our Four teams of #headless #ds106 participants have really earned their crowns, as we saw heard Tuesday night when we premiered live on ds106 radio the productions of The Merry Hacksters, The 3Ts, the JunioRS, and the Dusky Path of a Dream Team.
You can catch another premiere, the UK version hosted by John Johnston and Marian Funes at 8pm BST – tune in at http:?/ds106rad.io/live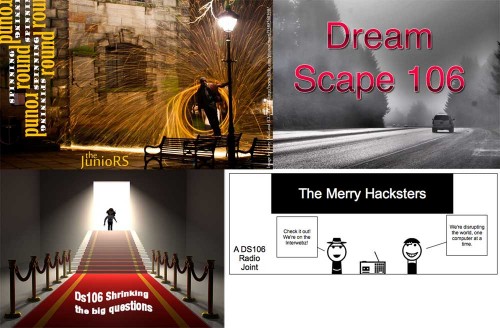 And yes, we haz archives! On the Headless Radio Show page, we have not only the shows, but the great pre show and post show discussions hosted by your truly and truly Christina Hendricks last night- find them all at http://ds106.us/2013/10/19/headless-radio-shows/.
But wait, there is more! It's all in a playlist on ds106radio, so those in the know can find it and slot it into the schedule at any time. Want to know how to do this? Learn here and there…
First of all, let's reiterate that all of this work is by people volunteering in for this course, they are here on their own interests. They signed up for groups on an open Google Doc, formed teams, none of whom where people in the same location (save Sandy and Keren in Oregon), and did all of their collaboration through whatever means they could.
In the conversations, the most useful tools used was Google Docs for planning/brainstorming, DropBox for sharing audio files, Audacity and Garageband for editing, Google Hangouts for meeting.
The production quality of these are all of high quality, no mean feat for source files being recorded with a wide range of devices and file sizes. I hear a lot of multi track editing, fine eye for detail, and use of music, background, and ambient sound. They integrated cohesive show structures, with intros, bumpers, connections between segments, and commercials.
Y'all get A's, ok?
"Hack the World" brought in a wide variety of voices, from experts from Mozilla talking about web making tools (and th either educator talking about toy hacking) and spirit, the grade school kids talking about the way the use things like Minecraft, Stefanie's historical narrative. What comes through is a wide range of Hacking in the material world and the digital one. Kevin put in some serious editing chops.
What can we say about the 3Ts- their show covered a lot of ground, no mean feat for a larger group. That TalkyTina framed the show and provided a wealth of connector bumpers and commercials. The conversation with Christina on the meaning of Life was priceless. Rhonda and "Bossy Karen" had us on a cooking show with philosophers that was rich in spice and metaphor, and I had a good time with Jess's ds016 numerology. And Marina brought the big question home with a thoughtful piece on the possible dangers of story.
The JunioRS broke some new ground into a new kind o multilayered story concept, with the lovely foundation of Rochelle and her daughter's sweet rendition of "Comes a Time", overlain with different members saying the lines like poetry, and then woven eve more elegantly with the personal narratives each member shared. And what a tone the piece had with that characteristic voice of John's. All the segments were ones that brought images to mind for me.
And from over the distance, Sandy, Keren, and Hayfa create a poetic and thoughtful show on the meaning of dreams. Sandy want so minimize what she did on production, but the studio quality made the sounds pure, and there was a real sense of camaraderie with the way she and Keren talked. And speaking of powerful voices, Hayfa enthralled us with her words from Tunisia (I loved hearing the sounds of birds in the background). And Sandy's ethereal story took us all on a journey as wild and intergalactic as the one in the dream she described.
As my Mom used to say, "I was really blown away" by what all the groups achieved.
But I changed my mind on the grades.
A+ all the way around.