This is part 5 of 5 in a series of posts for Building Connected Courses: Feed WordPress 101
Basic Concepts of Syndication – and what to think about even before you touch that WordPress thing
Installing and Setting up Feed WordPress – Minimal settings, and planning the way content is sliced, diced, and recombined
Feeding the Machine – How to get RSS feeds into the aggregator without losing a finger
Some Feed Magic – Optional ways to improve feeds from sites such as flickr, twitter, etc, creating a twitter archive, RSS Feed TLC
»» A Few More Tricks «« – leveraging categories, adding attribution, setting featured images
Feed WordPress is a plugin, but itself has it's own suite of plugins to extend it's functionality- a plugin with plugins? Yes. I will be reviewing a few of the ones I have used, and also discuss the other affordances you can find by using tags and categories after content is syndicated.
Wielding Your Tags and Categories
Earlier in the series we set up Feed WordPress to automatically assign categories to all feeds, as a way of creating subsets of the entire syndication flow.
Because they are categories, they all have links to their archives, which you can use to add to your WordPress menus.
You can use the built in Categories widget to put a listing in a sidebar/footer widget. If you want to list just the syndicated category structure, you will need to install a plugin that allows you to select a portion of all categories to display, such as AVH Extended Categories Widgets, Sub Categories Widget, or others.
If you want to do a tag cloud based upon the ones in the syndication stream, I find the built in WordPress widget a bit bland and limited. I prefer the Ultimate Tag Cloud Widget, used to generate the footer at the Thought Vectors site.
Another way you might consider using categories is to "curate" the flow of content and add categories to specific posts to build collections. On the Future of Learning Institute site, the site admins regular edit posts and add a "Spotlight" category, which are then promoted to the front page: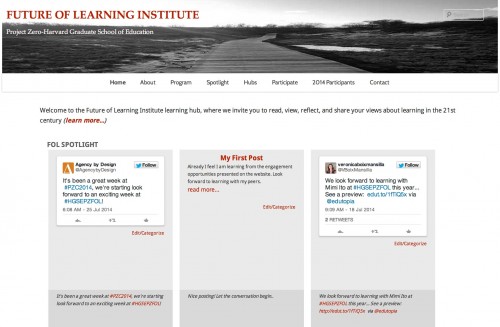 This include a mixture of tweets, photos, and blog posts. Many themes have built in sliders to display content from a specified category or tag, often you add a "Featured" category to a post to push content into the slider.
The ability to do organize content like this was a primary reason for choosing the Editor theme (Woo Themes) on Thought Vectors. It has three areas that display posts based on tags: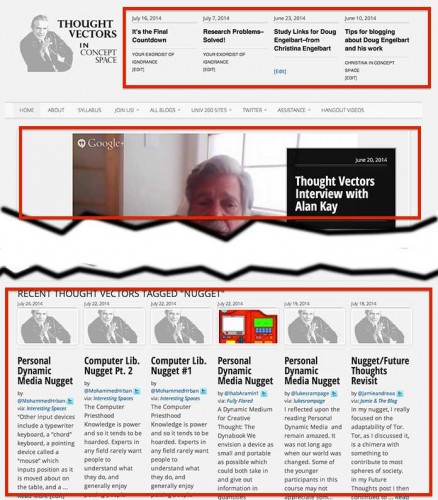 There are many ways we could have used these; the top were posts tagged by facilitators to promote important class links. The slider displayed posts based on a secret tag admins used to create the big banner sliders, but it could just as easily been tags added by admins to promoter student content. And the bottom row of 6 posts were based on participant's use of the "nugget" tag.
So you can use tags/categories that are suggested to your participants, or you can add tags/categories to display on your site. The ways and approaches wil vary depending on the features of your theme.
Feed WordPress Add Ons
I have used a few extra plugins that can add functionality to the Feed WordPress plugin itself. Several are listed/described on the developer's web site, yet I have found the links are mostly dead, but you can find the current version on his github site.
Adding Attribution to Syndicated Post Items
When you syndicate in the posts on your site, you will get a link and a excerpt from the blog (if you choose the option for permalinks to point to the original source), but there is nothing really to indicate that the post is from another site; it will look just look like any locally authored posts on your site.
The FWP Add Attribution Plugin takes care of that issue by creating a setting in Feed WordPress that allows you to define the way attribution strings are added.
For examples how this can appear, all participant posts from Project Community (example) bear an attribution to the source (highlighted with red box):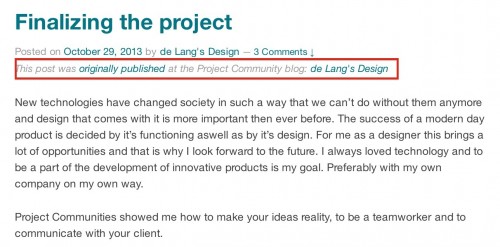 or at the Future of Learning site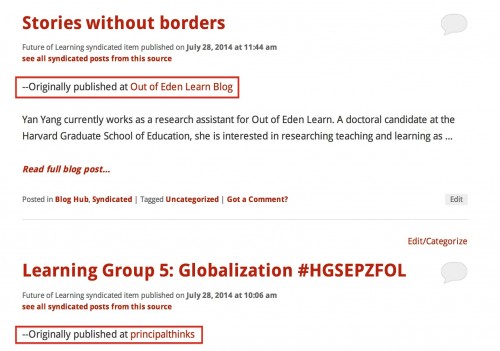 when this plugin is activated, it adds an extra piece of settings to Feed WordPress, under the Posts and Links Section — look for Attribution Boilerplate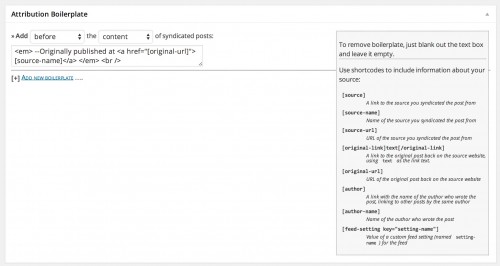 You can choose to have the attribution appear before the post or after it. And you have a number of template variables to build an attribution that can list the source, link to the post, etc.
And because it is set as a global setting in Feed WordPress, you can override it per feed if you have some that you do not want to show the attribution text.
Filtering Feeds
The ADA Keyword Filter plugin (fear not the 2 year old warning, the plugin still works) gives you a means to restrict the posts that are published by keywords that you choose. This can be a way to deal with people using blogs where they write posts not related to your project.

As of February 23, 2017, this plugin no longer works with WordPress (generates fatal errors).
For example, in the 2013 Future of Institute site, we told bloggers that they would have to use one of two different keywords in their posts for them to be syndicated (the keyword can be part of the title or the post). The ADA keyword Filter adds yet another section to the Posts and Links Section: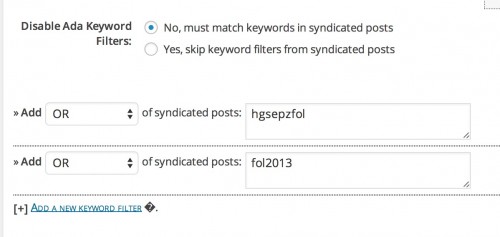 Technically this worked flawlessly (we syndicated all posts that had either hgsepzfol or fol2013 in them, and the plugin is case insensitve), but we noted that a lot of people forgot to use the tags.
But you may find a use for this regardless.
Filtering for Images Localized
The Feed WordPress Advanced Filters plugin turns out to be a multi tool of features of which I have used but one; I urge you to explore the other capabilities it has to modify syndicated content.
The one filter I have used form it again and again is the images filter. What it does is look at all images references in an external post, and it makes local copies stored in your WordPress site.
Why would you do this? One reason we have found in ds106 is archiving. When students let their domains lapse, we can flip the setting to the links on the site point to a local copy (see the previous post on feed TLC). But all of their embedded images are gone. By using this filter, we preserve those on the course site.
But another reason is for modern graphic themes that use featured images- this are ones that create pretty front pages where posts include an image as a link. Because they are syndicated posts, there is no information to indicate a featured image like we can do when we author a post.
I have gotten around this on sites such as Thought Vectors by using the Auto Post Thumbnail plugin. This will automatically use the first image as a featured image. But there is a hitch. The image needs to be local on the server. This is no longer true, Auto Post thumbnail can create featured images from local or remote images.
So we combine this with the Feed WordPress Advanced Filters – it makes the images local, and then the Auto Post Thumbnail makes it the featured image.
Once installed, the Feed WordPress Advanced Filters plugin adds yet another pane of settings to Feed WordPress, under the Posts and Links Section. In the FeedWordpress Advanced Filters area, I choose to create a new Image filter, using these settings: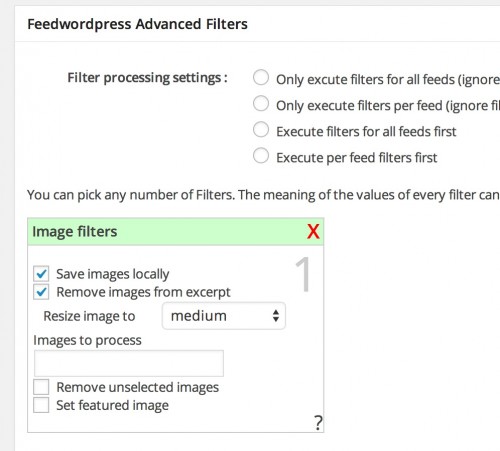 And now, all images used in syndicated posts will be copied to the course site (this does mean you will store more data).
How well this works again will depend on the capabilities of your theme. Sadly, many people do not use images in their blog posts! The Theme we used on Thought Vectors did provide a way to designate a default featured image if none was provided.
UPDATE: January 8, 2016 Feed WordPress Advanced Filters still works on my sites; I have been noticing that on feeds that are not active, something in my set up seems to keep syndicating in copies of images, so I end up with multiples stuffing up the media library. and when you run an update from the Feed WordPress interface, this plugin generates all of its output, like a log, on the screen.

As of February 23, 2017, this plugin no longer works with WordPress (generates fatal errors).
Almost by accident, I came across a new option for making images local and setting featured images, FWP-Sic-Em, by the author of Feed WordPress. I am using here on my own blog, and used it for recent projects such as Covering the Coverage and the UDG Agora sites.

As of February 23, 2017, this plugin no longer works with WordPress (generates fatal errors). The developer is not responding to bug reports.
An update on the latest options- I recommend now using Auto Post Thumbnail plugin … see The Feed WordPress Featured Image Not So Merry Go Round.
Oy Vey, Duplicates!
Frustratingly, Feed WordPress seems sometimes to publish the same post twice, you end up with duplicate posts, e.g.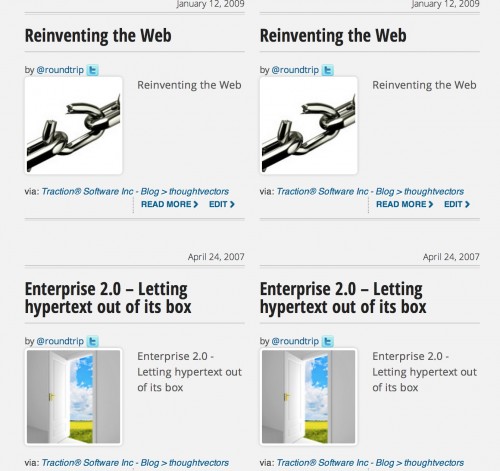 I have seen this in most of the sites I have worked on, and have yet to identify a pattern. Feed WordPress supposedly has a mechanism to detect if a feed item is new, but I have never found what exactly it is checking (the date? url? the content?).
I have tried the FeedWordPress Duplicate Post Filter plugin but recall it either (a) did not work or worse (b) messed something else up. It has been a while since I tried.
I pretty much shrug and say it's easier to ignore a duplicate post than to risk missing a single one. If anyone has ideas or clues as to maybe what kinds of feeds this happens on, I'd like to know!
Who's in the Syndication Hub?
On most of my projects I have custom coded widgets for sidebars that can do a list of blogs in each category; as of now I have not found a way to generalize it (sorry!). But you can use the Links Shortcode Plugin to create an index of all syndicated blogs.
See it in action on the Future of Learning Institute site on the page of syndicated blogs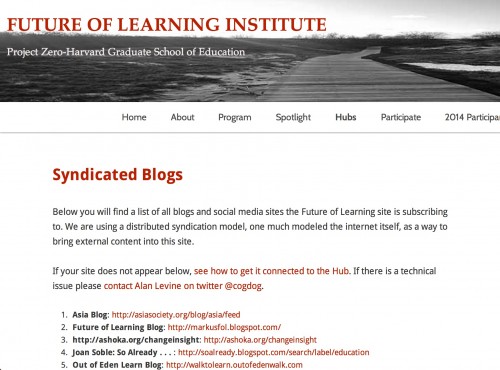 We can use this since we know (correct) that Feed WordPress stores all of the sites syndicated in the WordPress Links structure, by default in the Contributors category. The page above generates this list simply by a WordPress Shortcode
[

links

category_name

=

'Contributors'

exclude

=

'13,17,18'

]
The excluded ones the ids you can find in the links editor (ones for twitter, flickr, and instagram) since I just want to list the blogs syndicated. This same shortcode would work in a text widget as well.
Radiating Randomness
When syndication blossoms you gather so many posts… so many posts. When I ask students to comment, they are often overwhelmed, so I like to create some links that will provide a link to a random syndicated post. Random spins…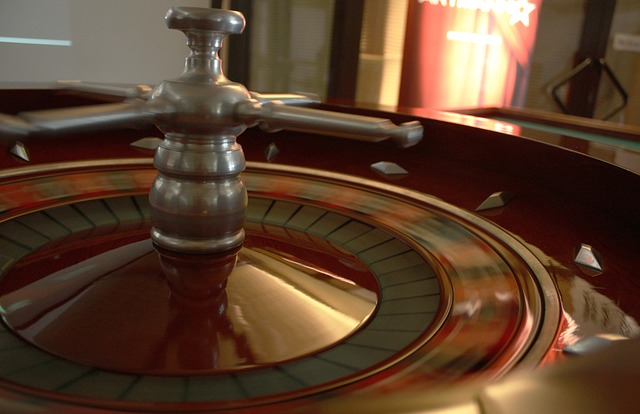 Public Domain Pixabay Image by MirellaST http://pixabay.com/en/roulette-game-gaming-money-colors-252390/
Because we have set things up with an organized category structure (we did do that, right?), there are some ways to create links to a random post from a category (all syndicated blogs, just from one category for a section in a multi-section class, etc).
I have that and more in Random Posts with a Time Twist — it's custom code, and requires you use a child theme.
The twist is you can also make links that pick a random syndicated post from a category (you choose) within a number of days (like within the last week).
It's All Dessert Now
This is the end of this series of posts. I hope I have given you more than enough to not only get Feed WordPress set up, but also making it fit your course or project need. I am sure I missed (or messed up) something. Let me know in the comments!
One thing to always keep in mind is that syndicated content become just like local blog posts, and anything you can to them, you can do to syndicated content. This includes the way they interact with your theme and all of the 5 gazillion plugins out there.
Now it's time for you to feed!
---
This is part 5 of 5 in a series of posts for Building Connected Courses: Feed WordPress 101
Basic Concepts of Syndication – and what to think about even before you touch that WordPress thing
Installing and Setting up Feed WordPress – Minimal settings, and planning the way content is sliced, diced, and recombined
Feeding the Machine – How to get RSS feeds into the aggregator without losing a finger
Some Feed Magic – Optional ways to improve feeds from sites such as flickr, twitter, etc, creating a twitter archive, RSS Feed TLC
»» A Few More Tricks «« – leveraging categories, adding attribution, setting featured images
---
Featured Image: Electrical Plug flickr photo by One Tree Hill Studios shared under a Creative Commons (BY-NC-ND) license