Skepticism is healthy and leaves room for later acceptance, eh? As previously barked, I am not convinced yet that there is a natural leap form the success of podcasting to saying video will take off just the same. I would enjoy being wrong.
David Weinberger, the Cluetrain guy, the Small Pieces guy someone I read often and respect immensely — is posting video interviews with the blogerati of the Supernnova 2005 conference. It is being referred to as "blogcasting":
Blogcasting is a new program being launched at this year's Conference, that offers a video-based online blog format with a twist. It will feature hosted interviews with speakers and key conference participants as well ad hoc commentary from our attendees. Our Conference commentator, David Weinberger – popular industry analyst, writer and blogger – will interview panel moderators as well as approach session attendees; distilling the key points, asking the questions on viewers' minds and pursuing the controversial topics. Informal, lively, entertaining and opinionated, Blogcasting will allow our attendees and virtual online viewers to connect to the life stream of the conference.
And what is there is a great collection of video interviews with many famous net folks, household names if you will, laid out on a web page, were you can click and watch the interviews. And the "blog" part is (I guess) that each clip has a link to add comments (out of 24 total videos, there is a grand total of 2 comments) and each one has a Trackback (which most people do not believe in any more). The clips are not time/date stamped, so it's not necessarily a reverse chronological format.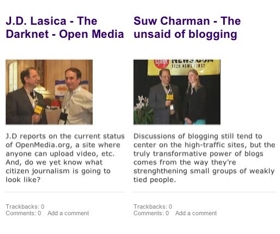 I would guess the "Xcast" where x= pod, video etc means that what is "innovative" is that the RSS feed describes/links the media references as RSS enclosures. Yes, on a theoretical level and maybe in the future, one might "subscribe" to a feed that might regularly download video content to some player. Maybe the future TV/Tivo will do that (what Tivo already does).
My nagging question, is just who is going to want to "subscribe" to all of these video interviews? Is there a value in getting regular updates? When I chose to subscribe to something be it an RSS feed from a web log or a subscription to Dow World Magazine, it means I want to regularly consume most of the content that comes on some periodic basis. Despite hearing some fabulous mp3/podcasts I cannot say I have found a podcast feed where I would want to regularly download and listen to the stuff. I'd be tossing or ignoring more than I would access.
The other thing is the nature of this blogcast content. These are deeply interesting people with deeply interesting things to say. However, is there truly a large value added in watching people talk? Once getting past the curiosity of seeing what the Long Tail guy looks like or learning how Sue became Suw, what we get is nothing that is more rich in information than the audio alone with a snap shot image.
What would be worthy of the medium is current news we cannot get to, e.g. news coverage of natural disasters, war, physical achievements, places we cannot visit like inside nuclear reactors, a research station in Antarctica, or something where the moving imagery and sound are central to communication the message.
Sticking video clips on a page has gone on for years. Tying it to an RSS feed is down there in the tenths of hundredths decimal place of Internet 2.xxxx. Watching people talk is not something I find revolutionary. I can go to any public place and observe that.
I would love to be wrong. And many of you think I am. Fine. It is waaaaaaaaaaay too early to be predicting that vidcasting. videoblogging, blahcasting has a grand or zero future. If I wrote of the web based on the text based linkage of physics documents I saw in 1992, I might be a board member of the Flat Earth society.
But we need to be asking critical questions before lathering up in drool and excitement over new technology. And we also need to let it evolve. I'll take video content when the content merits and benefits from the video format.
Okay, launch the rotten tomatoes my way.