More exclamations of "holy flickr" emitting from my room. The flickr montager generates a mosaic image based on tags of a word from flickr.
I played a bit with it, tried my own montage on the tag "dog". It randomly chose some image of a pocket puppy type dog (or as my friend Donna refers to 'em, as "barking slippers") and generated a montage image of it base don other flickr photos tagged with "dog". Digging in deeper, I tried to think of a tag that would pull up my own photos, so I used "Mickey" for my former Labrador (and logo for my sites) where I have a bunch tagged.
The image chosen to display was of a cake with Mickey Mouse. Sigh. But hovering over the icon images that form the larger one, I found a few of my own photos. Imagine th fun when I realized that clicking a icon will make that image the target! So here is Mickey getting a bath, the image rendered as a collection of several hundred other flickr images tagged with "Mickey":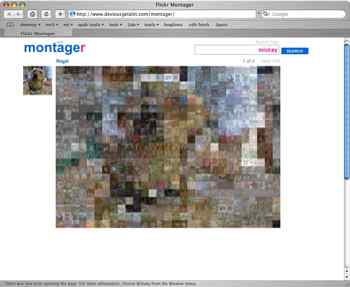 And Mickey saying, "huh":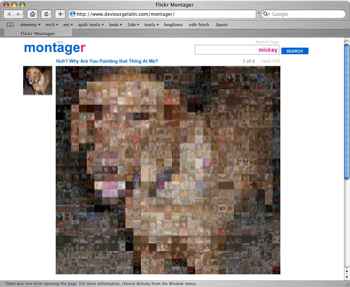 Not bad, especially if you stand back from the screen.
Another way cool thing built around the nicely open flickr API, another example of what happens with technology that leverages "collective" works, another huge sink of time, another fine thing.
Tip of the blog hat to Tim Lauer