As the tawdry saying goes… "I Like to watch"
It's not what your dirty minds think… I was one of more than 100 people watching LiveMarks, a near real time window of the input to the social bookmarking pile called del.icio.us:
LiveMarks is a project to show del.icio.us bookmarks live.

On the left of LiveMarks you can see most recently popular bookmarks. On the right, del.icio.us bookmarks scroll by as people bookmark links on del.icio.us.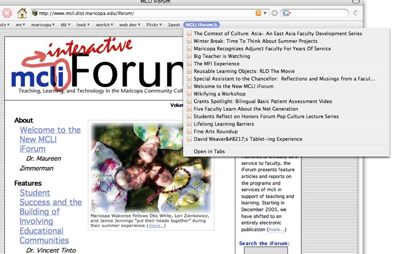 It's a bizarre yet fascinating way to watch a social network multiply before your eyes. Vogue Trend Report…. Tips for aplpying for a job on craigslist… Oahu Vacation Rental – House – Sleeps: 2… Alliance pour refonder la gouvernance en Afrique… Why I Hate the Apache Server… Home Depot Credit (and why so often this link? who would bookmark a login page?) …. Walk – Don't Walk Chair | Uncrate… It literally is hypnotizing to see what comes up, what repeats, what you have not ever heard of. It all unfolds before your eyes.
My experiment however, was disappointing. I used by del.icio.us bookmark tool to add the LiveMarks site… and waited literally minutes and never saw my bookmark drop down the screen.
Is the delay that great? I gotta read more about it.