Without mentioning the Web X.0 cliché, Reader2 is a site definitely in the mix with elements of folksonomy, social networking, RSSing for people to build collections of books they have read or want to read.
It's pretty quick and easy to add book titles- the add form allows to enter a title and use an Amazon search- it Ajaxes the results right in the page, copelting the author, ISBN etc. You can add your own series of tags, a descipription of the book, or a review. It has dropdown categories of books that is awfully limited (please make it more extensive or something we can configure, why cannot this be tagged as well?); as well are the "status" you can assign to a book- again, make it more open or extensive.
I've been playing with it off and on for a week…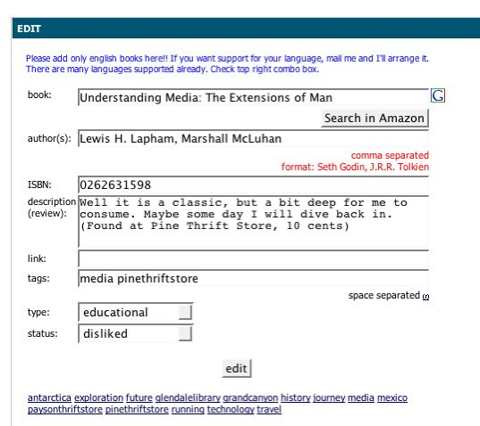 Tagging is quick, both as you add tags, the are one click ads from a "well" at the bottom of your editing page.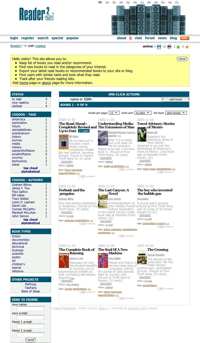 I am not exactly the most erudite or scholarly reader (maybe just a notch above comic books), but I decided to build a collection around a new hobby this year- books I have found at thrift stores, yard sales, or used book sales at libraries. So my CogDog Reader2 Collection features this books: http://reader2.com/cogdog which of course, nicely, has its own RSS feed
There's a lot of nice things tied in to the display. It provides a linked list to tags, so for example I am adding tags for places I have found the books, such as ones from the Pine Senior Center Thrift Store. And Reader2 does this well- Like del.icio.us, when you go to a tagged set within my collection, the RSS Feed becomes filtered to for that collection, so you can build a master RSS feed for all books, and then tag-specific feeds as sub category feeds. Nice. Very nice.
It has a list of authors represented in the collection, as well as the limited list of book "types". The book displays will automatically fetch the cover images from Amazon, and provide a link to Amazon as well as something I had never seen, the Wikipedia Special Booksources a locator service that helps you find where you can get books based on their ISBN number.
There is also a per book comment tool. So teachers, think about building a reading list, and asking students to post reviews as comments…. ?
Entries are also hyperlinked to the Authors pages on Amazon, the tags you have provided… well it is incestuously linked (in a good way).
It's a definite exmaple if you want to flaunt yet one more neat social software, or a ______ 2.0 example.
I'm looking at this with an example in my mind. I know one of our colleges spends a lot of time and effort to create web pages of book summaries/reviews/recommendations for their faculty and students. But they go about it in a very Web 1.0 manner- they have student workers scanning in images of book covers, manually typing up web page summaries, and then adding links to a master page. I've tried to point them towards services like this that take the print work out of building web viewable book collections.
The power of things like Social Bookmark tools (your furls, del.icio.us-es) is that it simplifies that catalogging and display, and you can spend less time on manual, tedious tasks (editing web pages), and more time focusing on content. Tag n' Bag!
PS- I snagged a nice screen capture of this web page using the nifty Mac OSX free application, Paparazzi— it allows you to enter any URL, and it fetches a full screen JPEG, PNG screen shot image you can then save. This is much better than trying to fit a screen capture (e.g. for long web pages). It's a new must have tool in my web dev arsenal.