I've been wondering about an interesting orange icon I have seen on the right hand side of the URL display in Firefox, which seemed to always be there for WordPress sites. Thanks to Tom at TuttleSVC, I know it is now implemented in Mozilla and Microoft browsers to indicate a site has an RSS feed available.
For example, opening our (ahem) recently mentioned site for the MCLI iForum, you see it:

If you click the icon (in FireFox) you get the dialog box seen when you select to bookmark a page. This adds a Live BookMark that updates the links when the RSS feed changes, providing a handy way to follow important sites, or having your browser bookmarks act like an RSS title aggregator: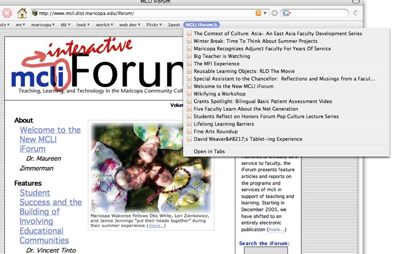 From poking around, the browser is determining if a site has a feed by looking at the LINK tags in the source HEAD, e.g.
<

link

rel

=

"alternate"

type

=

"application/rss+xml"

title

=

"RSS 2.0"

href

=

"http://cogdogblog.com/feed/"

/

>
Not earth shattering news, but now I can stop my curiosity at the orange icon.