I use NetNewsWire on sometimes an hourly or minutely basis to check my RSS sources. There is this thing off to the right of the menu bar for "Sites Drawer" that I hit only by mistake when trying to activate the window. It's a set up RSS feeds provided in the software, likely in case you have trouble finding feeds to susbscribe to.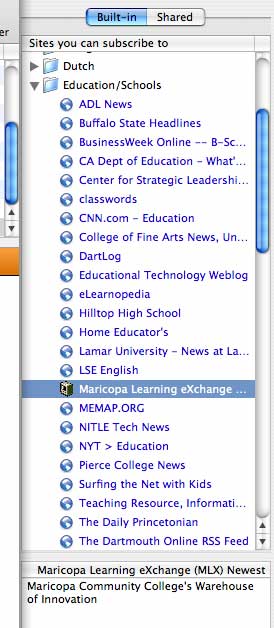 Just for curiosity, I noticed there was an education category, including sites like ADL News, DartLog (Dartmouth News), Hilltop Highschool and woah that one looks familiar- they have an entry for the Maricopa Learning eXchange!
Now I feel guilty. I;ve gotten pummeled (many self inflicted) with some many tasks, projects, presentations, that I;ve not done any coding on the MLX for maybe 9 months. And I sorely miss it.
I love coding, programming, more than any other techie thing. There is sheer joy in creating something from nothing, or creating a web site or tool that maybe did not exist elsewhere, of putting it out there for others to use.
My goal/plan/dream after February the Month of Travel is to make March the Month of MLX programing. I hope to integrate the layout and code structure changes in the test version, and ultimately, get the code posted on a neglected sourceforge site.
Doing so might relieve me of one one more of my 43things, unless I get distracted by other ones of my serious goals.