Frequent readers may know I have been a fan of the iRiver tiny MP3 players for their recording capability. I had purchased two for us in my last job, and just from a meeting last week, saw that another colleague at Maricopa had purchased one for doing some audio recording.
See, the folks at iRiver ought to know how vast and powerful an influence I am ;-)
I was eager to get one for my new job at the NMC- I very much like doing informal audio interviews. Browsing the iRiver iFP 700 series lines, I was dismayed at how many were no longer available, not at Amazon, nore at the iRiver store itself. I managed to get an order in for an iFP-795 (500 Mb) that was sold only as a bundle with a waterproof kit. But I had some problems with my new credit card (another long story about call-centers around the world that mangle new address changes). By the time I had fixed the issue with my card, the item was gone: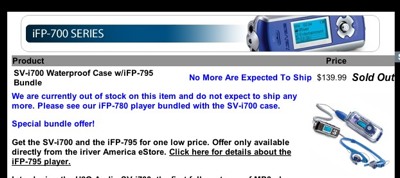 Despite the preceding page which indicates it was in stock:

It seems very much that the iFP line is being phased out. Worse yet, the new T10 players, with their slick candy colors and maybe even, improved interfaces, are only compatible (for models sold in the US and Europe) with Windows XP. This is not very clear at all from the specs page, where Mac is listed, and the details are hidden in asterisked foot notes.
So if you are thinking about an iRiver, and are on a Mac, get one fast or you are left to ebay as the source (well I guess I could have gotten the T10, boot camp booted into Windoze and …. nahhhhhhh, too much trouble).
iRiver- great little devices, terrible user interface, inconsistent web site, and poor choice in marketing strategy.