While there are at least 20 or more different social bookmark tools out there, I am pretty much committed and hooked on del.icio.us. It has that no frills but highly functional interface, but mainly because it has so many subtle features that are easy to overlook, even if you have been a regular user. It is subtly powerful, in a way that many people do not see.
So I cam going to cover three "next level" things you can do in del.icio.us, two of which I had not even checked out before last week. I am sure there are more treasures in there, and remember that just about everything… no make that everything displayed in del.icio.us has an associated RSS feed.

A Groovy MP3 Player
The del.icio.us PlayTagger is a tiny tiny piece of JavaScript code you can add to any of your own web pages. It automatically adds a little Flash player to any link in your page that points to an MP3 file:
And when the little triangle clicked, it starts playing the MP3 without leaving the page!:
This is much better than the link blasting off to an empty page, or launching some other application. And it provides a quick way to tag the audio in your own del.icio.us account.
The code can be added to the HEAD portion of your HTML. Or, as I recently discovered, it can be pasted into SuprGlu's "static content" section (the stuff that gets put in the sidebar of a Glu page), and it will provide the player for any MP3 link- see the NMC Glu page.
If you start tagging MP3s in del.icio.us, they will display in your own pages there with the player as well. That offers a different way to collect your audio content– if you use a unique tag for your MP3 audio you want collected together, you can then have a direct link (and RSS feed) for your audio files.
So as an example, all of the podcasts we are producing for the NMC Second Life project, as well as ones that originate from others, can be assembled by tagging our as both podcast and nmc. A few older links had tags for podcasts because they were articles about podcasts… by combiinng tags, I can have just the ones I know are MP3s. A better approach might have been a custom tag like "nmcpodcast":
http://del.icio.us/nmc_campus/nmc+podcast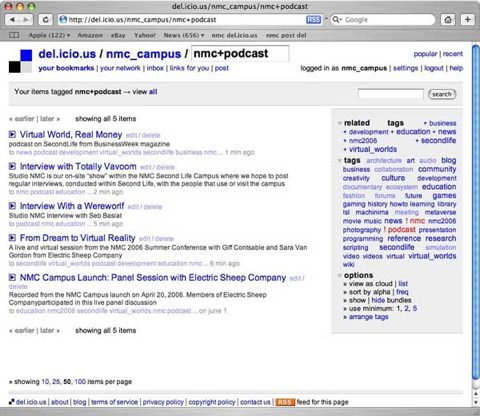 The MP3s still need to reside elsewhere to have their own URL; del-icio.us makes a handy container to arrange the,.
Tag it Forward
The for:xxxxxx tag is very userful, and should be in the mix for looking at the social aspects of social bookmarking. Adding this tag, where xxxxxx is a del.icio.us user account, allows you to "send" an interesting link to someone else. For example, I started using for:dnorman for sites I thought D'Arcy Norman might enjoy. I still have them tagged in my collection of links, but they end up in a special place in his account (the "links for you" link at the top of the del.icio.us pages).
For example, at last week's NMC conference, I tagged the bookmark for a nice presentation about Drupal. Just for curiosity, I added the for:dnorman tag, and obviously, D'Arcy was checking this part of his account, as he later blogged about this link.
With just a mouse click, I can share links with others. For example, some nice person has been sending a few my way with the tag for:cogdog: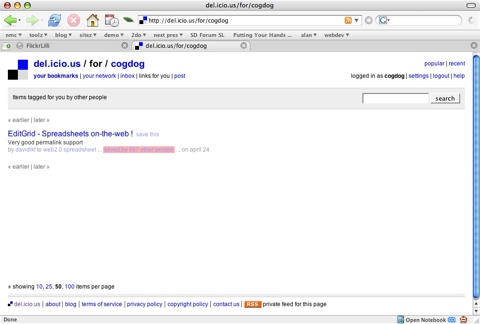 When I check my "inbox" I can then just click the "save" link if I want to add this to my own set of del.icio.us links (and it lets me know what tags te other person used; I can use theirs or my own).
I know some instructors have set up del.icio.us accounts for creating class web resources (see this Chemistry set by Liz Dorland at Mesa Community College), but end up creating a shared account, or asking students to send links by email. Ugh. With this method, students could easily "forward" links to a teacher, or TA, or web site keeper. Or, the other way, if a teacher has students with their own accounts, as they find relevant course materials, they can "for:xxxx" tag resources to send to specific students.
It is harder to explain in words- but the for: tag is an interesting way to share links, without email, without blogging, etc. Just one click…
We Are the Network
And now…. del.icio.us has another subtle tool that allows you to "aggregate" bookmarked sites from a network of people you choose. All you need to do is add a del.icio.us username to your "network", and the "your network" link will continually display the newest sites that all of your networked friends have added. For example, my network has by Canadian buddies, plus the sites I am tracking in a separate account for our Second Life resources. Small network, but you can see if you have some key del.icio.us bookmarkers, you can leverage their own activity to bring new sites to you.