I think this came via TechCrunch- PicLens is a web browser plugin that allows you to view photos form several services ( Flickr, Facebook, Photobucket) and image search results from Google, Yahoo, and Ask.com in a full screen mode, that keeps a record of images viewed (an icon strip below).
Right now it is available only for Mac OSX and Safari, but it says a Windows version is coming soon.
So on any of these sites, PicLens availability is indicated by a special icon superimposed on an image:
which can be a single image as shown, or an entire set on flickr. Clicking it pulls up the full screen viewer, previous images are stored at the bottom, and a slide show mode is available: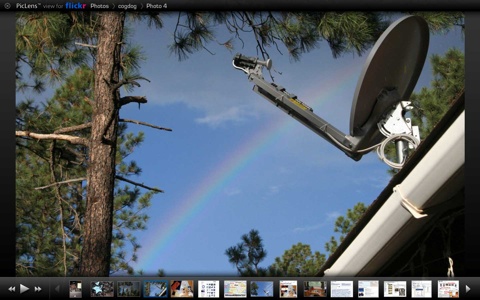 Okay, I am not sure what I might use it for, but it has some potential… I have done some presentations where rather than stifling the audience with bullet points, I just use a rotating slide show; usually in iPhoto. I can see doing this even easier with PicLens.