We're doing a live event in Second Life this afternoon. Yes, we will all sit in rows of chairs, and listen passively to a lecture… no wait a minute, that's what some people think happens in there.
Actually what is happening is that Henry Jenkins is making a first official in world appearance in visiting the Teen Grid, where the Global Kids Island is hosting an event, A World Fit for Children Festival – teams of kids have attended seminars (in Second Life) from UNICEF on world issues, and the kids are building exhibits with their ideas for solutions. Nope, there is nothing novel there, is their doubters? No one is creating?.
Anyhow, Jenkins will bed doing an audio address to the students on "We're not playing around here!: The pedagogical potential of computer and video games", interspersed with some times for… dancing. We at NMC are helping out by coordinating and providing the live audio stream. Since us old folks cannot get to the teen grid and be a part of it, but since it is a regular audio stream, we are also setting up a place on the NMC Campus in SL where we can have our own gathering to listen in and run our own back channel. As setup, we have available before the event in the Huntley Ballroom, a video of Jenkins' presentation at the NMC 2005 Summer Conference, and audio interview with him we did in September 2006, and 2 screens with some random stills of Jenkins as well as some snapshots provided by the Global Kids of the UNICEF project (see event details).
As a warmup we will have a first hour of music being DJ-ed by one of the teens, then the main program starts, and after an hour, well, dance til you drop.
There is always a bit of a dice roll of SL events done live (and egads, its a Wednesday! fortunately this is not a day for a software update) and a lot of stuff behind the curtains, which is what I intended to write this about (see my previous overview of the audio tools, including a gliffy image)
So the pieces in this working include:
* a teleconference bridge for the audio portion (plain old telephone works more reliably than Skype). I even go more low tech in just using the speaker phone and my computer's built in microphone (using headphones to wipe out the feedback). I experimented with the $30 Radioshack gizmo that patches in my phone line with an audio out I can put in the computer, but the noise on the phone line is worse than the noise from my microphone.
* I have music loaded in iTunes that we will stream out as well. These are songs that the teens selected (thankfully there are plenty of google-able song lyric sites to weed out inappropriate tunes). Actually the music provided by the teens has its own stream, but if you switch stream URLs within Second Life, it requires avatars to stop and start their music player to recognize the new stream. But I can just attach the stream in iTunes, and send it out using our stream. So I make a playlist for the event with the songs plus a live stream in the mix.
* I use NiceCast to stream the audio from my laptop to our streaming server at Limelight Networks. By using the filters, I have a mixer that allows me to crossfade from music back to my audio input, allowing my to DJ the audio smoothly. NiceCast also has a nifty archive option, so it records the entire streamed content as an audio file we can post later as a podcast.
* We use IM to message each other behind the scenes.
* Desktop stickies keep the URLs and such handy
The desktop gets crowded: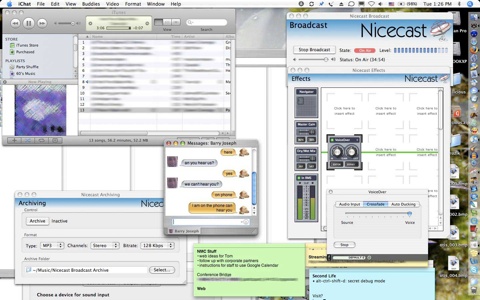 And on top of this, we need to monitor chat/IM layers in Second Life.
But nope, nothing really happens in Second Life….