Uh-oh, my 15 minutes of fame on TV is out and might be up. As previously noted, a few weeks back, I flew in and out of San Jose to be a panelist on the Ready2Net panel on "Web 2.0 Comes to Campus" (Drat you Bryan Alexander, likely too busy yourself, you should have been there instead of me!).
Gulp its out. A chance to see me in a tie for the first time in 6 years (and maybe the last in even more):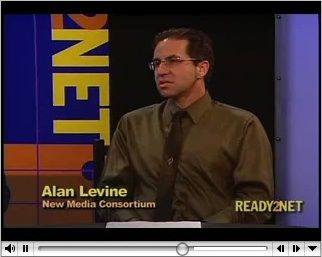 "Web 2.0 ummm,.. is ummmm. well ummm…"
The entire show is now online — note that the first half was the "industry" panel, with speakers from Microspft, Blackboard, etc on their perspective on web2… then the academics. I cannot say for sure if I said anything memorable, besides, "In Second Life I am a dog!", but I thank Casey Green and the crew from CSU Montery Bay (it was worth going just to see John Ittelson's new tech gadgets), as well as fellow panelists Gil Gonzales (colleague from days when we both were at Maricopa), new colleague Sandra Rotenberg (I got her hooked on twitter while we waited in the green room), and Rich Pickett from San Diego State.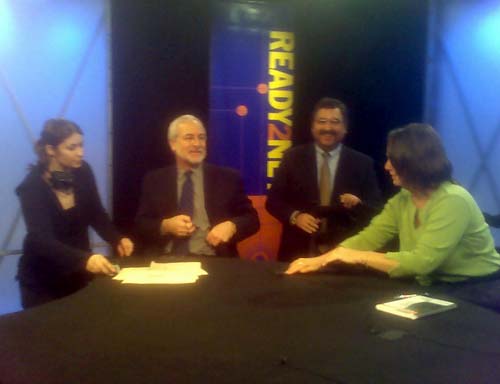 The show director gives suggestions to Casey Greeen, Gil Gonzales, and Sandra Rotenberg
Hopefully, I was miserable enough that no one will ever invite me back in front of the camera.