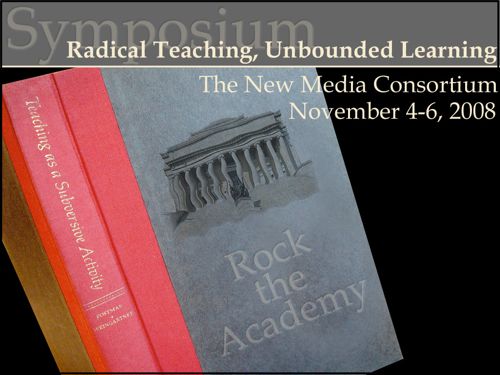 image based on Creative Commons licensed flickr photo by Kevin Lim
The next NMC Virtual Symposium is Nov 4-6, but early registration ends tomorrow, so don't miss out.
Rock the Academy, the twelfth in the NMC's Series of Virtual Symposia, will explore the kinds of ideas and activities that are changing the shape of education today.

Creative Commons flickr Photo by Kevin Lim Revolutionary practices are breaking apart old models of teaching and learning; students are using new tools to construct meaning and contribute to the design of their own education; teachers are sharing the power that has traditionally been theirs alone. Examples of unconventional, yet highly effective, methods of teaching and learning may be found in pockets all over the world, at all levels of education. When the multitude of examples are taken together, we begin to sense a profound change in the making that will alter our concept of education itself.
We have a great line-up, certainly not everything out there that "rocks" (was hoping some of the folks doing open course would submit proposals) but the point is not to try and be all encompassing but to start some conversations. At least there will be something from the Ed Tech Survivalist and I gotta love one of my fave presenters with a title like "Teaching Naked: An A-Z Guide to Open Access Teaching".
And yes, for those squeamish of the virtual worlds, despair! we are holding the session in NMC's virtual Conference Center in Second Life. Have no fear; we are setting up some new technology yo provide live video streams to a web site and we are using a new "ChatBridge" tool to connect in one place the Second Life and web-based chats, so you can enjoy the conference from the mezzanine deck.
We are cooking up more, some live music, some cool interactive resources… and if I get my editing chops up over the weekend, a rocking movie.
And you can guess the theme song I'd prefer to use