How cool is this (and found via a tweet from Barbara Sawhill– twitterbution!)? Barbara Ganley splashes the New York Times on its story of Haste, Scorned: Blogging at a Snail's Pace: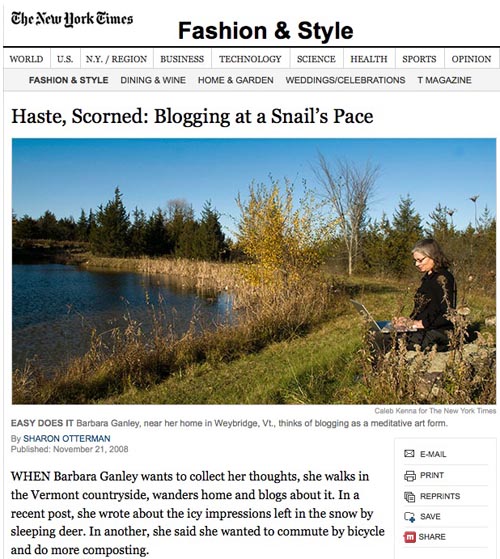 When Barbara Ganley wants to collect her thoughts, she walks in the Vermont countryside, wanders home and blogs about it. In a recent post, she wrote about the icy impressions left in the snow by sleeping deer. In another, she said she wanted to commute by bicycle and do more composting.

If her blog, bgblogging.wordpress.com, sounds slow and meandering, it is. But that's the point. Ms. Ganley, 51, is part of a small, quirky movement called slow blogging.
The New York Times, Yay for bgblogging.
Now Barbara Sawhill tweeted back shortly that several people were head scratching because this story was in the Fashion & Style section, not Technology.
But that makes so much sense to me. Look at her photo, contemplative with a laptop by a pond in the Vermont beauty we see through the photos of her blog post. That is it! She makes blogging in fashion and stylish! If the story was about some new computer chip or iPhone gizmo, then yes, Technology section. But this shows blogging as going beyond the technical bits- It is Fashion! It is Style!
I am serious about that.
If you want to see that, the post that she writs about it is NOT, "Hey Look! I am the New York Times" (apparently I am doing that post for her…) No, it is wrapped, enveloped, immersed into her struggles with the dire health of her faithful dog and the work she is doing with storytelling in small communities.
That is style.
Maybe that is why the light on my RSS reader is much more rarely on these days– everyone is S-L-O-W Blogging?
As much as she will demur to other slow bloggers, she so deserves to be in that lead story, as she is heroic in stature and humble in persona, an unbeatable, yet rare combination. If fast sloppy typo-ridden off the cuff rant blogging every gets fashionable, send the reporters my way…
Congratulations Barbara! You Rock!
One minor rant. When I got the article link Saturday, I could read it drectly. Now it is hidden behind a NYT login. Just curious as to what this accomplishes??