My favorite example of collective intelligence producing something useful out of many ordinary actions is reCaptcha. Developed at Carnegie Mellon University, it provides web site owners free software and tools for providing graphical challenges in web forms that generate posting to web sites. By identifying two random words presented as images, web site users prove they are not software bots intended on insertion of spam links. This is nice, but the "hook" is that the words that appear are taken from a project of digitizing literature; one of the words is one that is ambiguous from the OCR scans. By humans authenticating themselves to publish to a web site, they are helping to digitize written works.
Last week, while I think posting a comment to Brian Lamb's blog, I was struck when the reCaptcha spoke to me: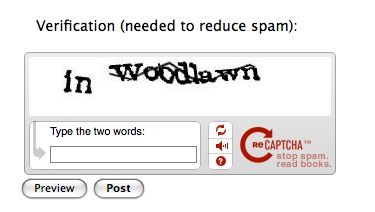 This was not random; it was a phrase, and I grew up in Baltimore, not "in" but near Woodlawn.
And a wheel clicked after last week's reflection of being creative inside a box— I wondered if I could create a story out of stringing together pairs of recaptcha words. Because sites can customize the appearance, mixing them up presents something more like a ransom note message made from cutting out words from magazines. So here is at least a prototype, not exactly a story in structure, but two sentences:
I sifted through these from a couple of sites by using the button or link to generate a new one (sorry to reCaptcha for the repeated quests of words not yet identified, I did, at the end of finding a word pair, submit those two), saving them as screen shots with file names based on the 2 words.
There was a small challenge of trying to find a variety of sites using the code- searches on "recaptcha" just brought pages about recaptcha. This is where a nifty Firefox extension came in handy. DOM Inspector (Document Object Model is a way of looking at the structure of web pages). I actually did not use the extension much, and disabled it, but there us a useful piece left in my browser.
Often I am looking at a web page and want to see how it was created or coded, so I use the browser view source to see the underlying HTML, but must rummage around to find the relevant portion. But after this plugin was installed, If I select a portion of the web page I wish to look at the source, a right (control on Mac) click brings up the contextual menu, and I have a tool to look at just the HTML source of the selected text: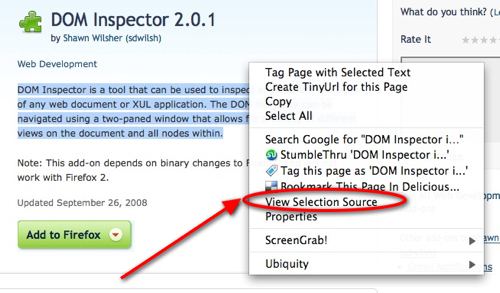 This is handy, indeed.
So I select the text that included a reCaptcha, and looked for a key phrase I could search on that would show me other pages with the embedded code- it turned out the text "Get an audio challenge" (part of the title= tag of the hyperlink to the audio version of the recaptcha) worked well for finding other sites using reCaptcha. I ended up with about 30 word pairs to try and mix into sentences.
So maybe not high art or literature, but it was more fun than having a big pile of