Help!
Please.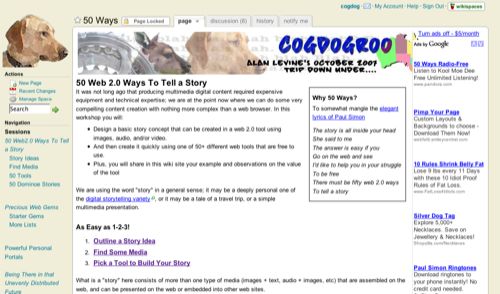 I am taking 50 Web 2.0 Ways to Tell a Story on a spurt of road shows over next 2 months- Barcuch College, Penn State University, Salem State College, and online version for Wooster College, and then a session at Ed-Media.
Gulp, am I becoming one of those shlock presenters that milks a show til it wont bleed anymore? I hope not. The entire presentation mode is going to change, and I am rolling in some new secret pieces.
In the next 2 weeks, the content is going through a sweep– links checked, 4 dead tools dropped, and several to be added. Currently I am down to 63 (from 64), but have at least another 5 I could add. Recently added are Prezi the sweeping swoopy cool presenter too (see example) and Pixton- a rather powerful comic creator (see new example).
I could use some input, and you can leave comments here or use the discussion tabs on any of the 50 Ways wikispaces pages (I check them via RSS so I will get your comments quickly):
Sure, if you have more tools to suggest, I'll consider them. But remember the criteria- they must be web based, platform agnostic, free, and able to mix at least two forms of media (text, pictures, video, images) into some thing that can be played back on the web.
I've not done too many recent updates to the list of sources where people can find creative commons of un-restricted usage media sites- what is missing from http://cogdogroo.wikispaces.com/StoryMedia??
I'd like more examples, especially ones that are relevant to educators for the Tools page. I have plenty for VoiceThread and Animoto, and am looking for examples from some of the more obscure tools.
Thanks in advance!