This is my (shameless) pitch for some material for an upcoming presentation for the August 2009 OpenEd conference… also at http://cogdog.wikispaces.com/AmazingStories (archivd)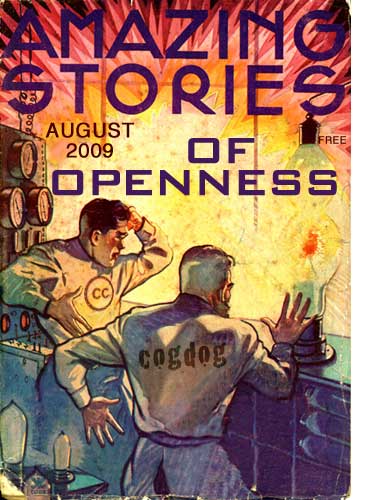 modified from an original January 1935 issue found at the archive from Galactic Central
Amazing Stories of Openness
While the Open Education movement focuses on institutional issues, a large ocean exists of powerful individual accomplishments simply from tapping into content that is open for sharing and re-use. As colorful as old covers of "Amazing Stories" magazine, this presentation shares moving, personal stories that would not have been previously possible, enabled by open licensed materials and personal networks. Beyond my own tales, others have been culled from the net, and I ask you to share your own.
While open courseware is important, there is much more that happens to us as individuals as we break old conventions and actually freely share our content online.
I want to help promote the concept of wide open sharing by highlighting examples of Amazing Stories of Openness– things that people have gained from that were initiated from putting something they made, wrote into the open space of the web, stories of things that would not have ever happened without this space.
What the heck am I talking about? My own examples include ones outlined in Only on the Web:
This is the Tom Sawyer Fence Painting School of building presentations! I'm looking for your stories to tell to an audience at the August 2009 Open Ed Conference in Vancouver. If you complete the google form below (or find it directly at http://bit.ly/amazingstories) I'll respond ASAP and hopefully we can set up a way for you to share your story (if not I have to build a presentation around just my own stories, yecchh).
How about it? It does not have to be super amazing, it might just be a colleague you discovered via open content, or a project that happened because of commons interests, or maybe something even more amazing.
Thanks!