cc licensed flickr photo shared by crabchick
There's something afoot abut data.
Whether it is Sir Tim's vision of a Web of Data (or is it the W3C Linked Data?), there is something emerging with not only the availability of more data (heck even the government is on it http://www.data.gov) but more what we can do with it… Tom Coates was on this early noting that (in 2008 at least) 90% of twitter activity was not at twitter.com web site but through the APIs that allow data (small bits) to flow in and out.
It is something I marvel at on a daily basis trying to follow the tracks of Tony Hirst who weaves magic with data.
I'm toying with something I hope to blog about i a few days that is prying open a whole pack of neurons for me in terms of "potential for something big and cool I cannot yet formulate).
But in the meantime, I've had swirling around the older neurons and experience with seamless flow of not so earth shattering data in some not so obscure software.

cc licensed flickr photo shared by shifty eyes.
I'm talking about song lyrics.
If you have been living in a Google Proof cave, perhaps you are un-aware that you can search almost any song title, or lyric fragment in Google, and score a free transcript of your tune (even more so if you include +lyric in your search box) I imagine a lot of these are people manually typing in lyrics to a web site (??).
I typically do this when I am looking to be clever (or aim to be) and use some fragment of song lyrics in a blog post, or maybe even parody it. A few weeks back, I was motivates to leave a comment on Gardner Campbell's post about his 5th anniversary of blogging.
Knowing and appreciating our mutual love of the music of the Who, I thought I'd try a parody of "Long Live Rock" to change the lyrics to "Long Live Blog". Typically I would do the Google Dance (woah look at all those results).
But I also remembered downloaded a nifty tool for Mac OSX called iClip Lyrics (oh dear, it lookis like version 2.1 now requires a few $$ payment). If you launch this tool and iTunes together, as you play a song in iTunes, iClip Lyrics does searches among the lyric web sites and downloads the full song lyrics, often in less than 10 seconds: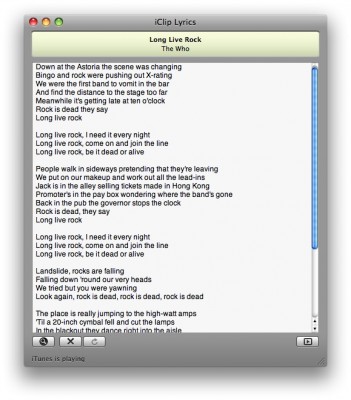 If it does not find, it, the app has some search tools to hone in on lyrics for ore obscure songs. I've not tried it, but MiniLyrics might do something similar for Windows users.
This handy, and might have been enough, but the magic part is that iClip Lyrics inserts the found lyrics into iTunes (it is a tab under the Get Info) for any song, so without any effort on my part besides playing a song), it is filling in data in iTunes, kind of like a database entry:
And then what is cool is that the same data flows to my iPhone when synced, so the lyrics appear in the iPod app:
This is not all so amazing, except that it is seamless to me- the lyric data flows from one app to the other in a sensible manner.
And even more, if I find the lyrics "wrong", in iClip Lyrics (or iTunes), I can edit the lyrics to my liking -maybe even to the version I left a a comment for Gardner:
Down at Mary Washington the scene was changing
Tech and Learning were pushing out A-rating
We weren't the first unit to blog off campus
And find interest quickly to ramp up on us
These days it's all tweets and Facebook
Blogs are dead they say
Long live blog

Long live blog, I read it every night
Long live blog, come on and subscribe
Long live blog, be it dead or alive
Data.. its about to get more fun. Data… it's not just for statisticians. Data…