I've been late to the game to jump for joy over Evernote, and I am just beginning to see it as being more than just a place to store bits of information. It pretty much can capture any kind of information, be it text, image, sound, document- store it in the cloud, and syncs it with your computer and almost every flavor of mobile device.
It's been on my machines for months, and to date, my great use of it has been to store my airline frequent flyer numbers, my prescriptions, and someone;s flight details I saved when I had to go to down to the Phoenix Airport.
But it was reading Guy Kawasaki's 14 Practical Ways to Use Evernote that some neurons began to snap, like:
Photograph business cards. Rather than collecting a pile of business cards that you'll never go through, photograph them with your iPhone and send their images to Evernote. Evernote recognizes text on the card, so you can search for names such as "Apple" or "John" when that's the only thing you can remember about the person. If you're using Evernote on a mobile phone, it can also geotag the photo so that if you can only remember that you met the person in Cupertino, you can still find it. And you can save trees: When someone hands you her card, take a picture of it and hand it back.
I cant wait to try sticking back to them someone's card they just handed to me.
But wait, Jeeves. Rewind.
You can take a photo of a document, business card, receipt, etc, with your mobile version of Evernote, and it does OCR magic to make the content in an image searchable.
Well, gollllllly, that sounds magic. So I had to try, taking a photo of the covered of Mired… errr, Wired I was reading on an airplane. You can do this right inside the Evernote iPhone App- take a photo and it shows up as a "note":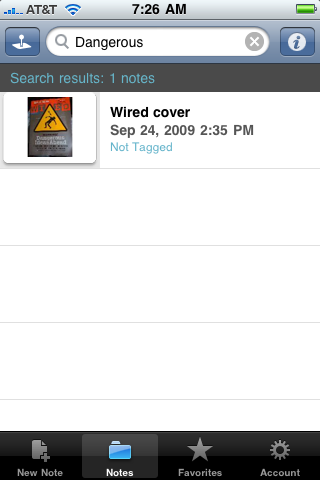 And sure enough, when I enter a word in the title of the cover *"Dangerous"_ in the Evernote search field, it lists this as the only note matching, and when I go to the cover, darned if it finds the word: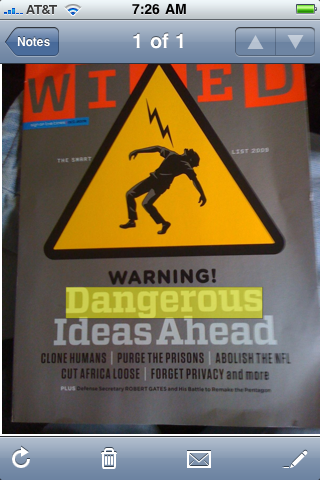 The other piece that interested me is that using Evernote's plugin for Firefox (or Safari), I can easily save entire web pages to Evernote. Why do that? Well, I come across some people who still write really really really really long blog posts– so if I Evernote them, I can then read them offline, like when I am on a plane.
So for example, I might save something from Stephen Downes' Half and Hour blog (Some of his posts would take me half a month to write!)- life his recent post on An Operating System for the Mind, I just use the Firefox contextual menu (I have an Evernote extension in there somewhere):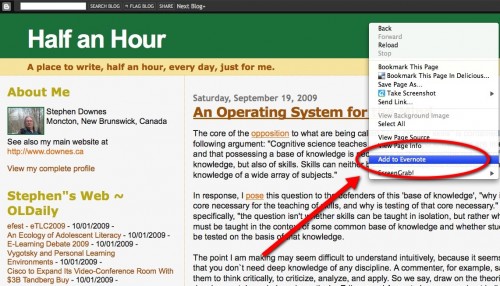 And just like that, it is in my cloud, and then syncs to my mobile. IN the desktop Evernote app I can assign tags; I move it to a new notebook I set up called "Stuff to Read"- but the web content is there for me to read later: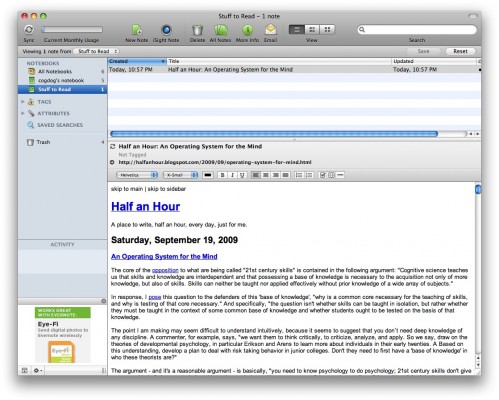 Wow, that was easy- so I grab a few more long scrollers- Henry Jenkins' The Message of Twitter: "Here It Is" and "Here I Am" and Jared Stein's Online Class: What Size Do You Want To Be? – both some extensive writings that deserve more than a twitter span of attention.
And now I have them stored in my Evernote and on my iPhone for later reading:
What impresses me is how fast, simple, and seamless the moving of content into Evernote is, as well as how it moves back out to my iPhone and back.
I still don't know how else I might use Evernote (might have to play with the audio recording of notes) but I file it away for a time when a need for its features will rear its head.