Nothing is more sweeter than the serendipity of finding something online that grabs a breath from you, and such that you drop what you are doing to dig deeper. This has only happened to me, oh, estimating (counting on fingers…) maybe 18672 times.
One more.
A day or so ago, on scanning the flow of tweets, I saw this message from Roland Tanglao

Who knows why one tweet grabs your mouse as opposed to another? But with that I was fallen into a fun time of exploring the noticings site which taps into many of my interests- flickrs+daily photos+geolocation+a bit of gaming, with a simple premise "the game of noticing the world around you"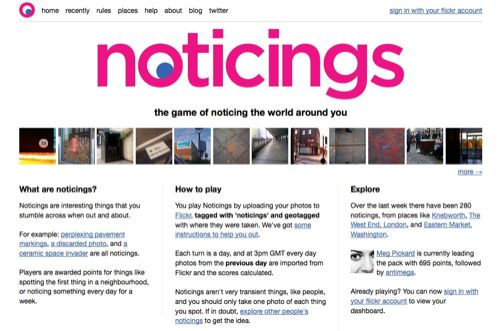 The elegant aspect of noticin.gs is that it has cleverly simple rules. Your goal is to notice details, objects, interesting things, lost items in your surroundings. Take a photo, post to flickr, geo-tag the location, and tag the photo "noticings"– the web site does all the rest. Every 24 hours, the site crawls flickr and awards points based in criteria like:
Noticing something near someone else's noticing.
Noticing something.
Your first noticing in a neighbourhood.
Being first player to notice something in a neighbourhood.
Noticing something every lunchtime for a working week.
Noticing something every day for a week.
Noticing something that's been lost by someone.
plus the teaser
Of course, there may be hidden rules, which can only be discovered by earning them.
And it amps up the challenge by making scores public. I just started so only have 50 http://noticin.gs/players/cogdog
So for me, I saw a lot of ties of this and the noticing I do when finding my daily 2009/365 photo.
I wanted to share this back in twitter, and thanks Roland, and mentioned something about the parallels (me) of doing the daily 2009/365 photos. The joy of this crazy web is that we see things differently, for Roland, he sees one as self induglent and one as with others, in his case Your Mileage May Vary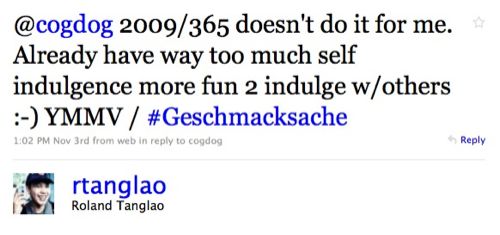 I have to respect that, since Roland has long been one of the prolific flickr photo posters (he must have 9 gazillion pictures on flickr)– and he's just a nice guy, too.
But I find that remark curious, as I see a lot of "indulging with others" happening in our 2009/365 space- people regularly comment (some as soon as I post), there is an active community -I don't fell alone at all. This was the gist of my 2009 Northern Voice preso on Say/Blog it in Pictures – it is one of the most informal, unstructured, yet appropriately bounded in structure groups I've been in.
So i don't agree with Roland at all– for me, MMDV- My Mileage Does Vary.
And all of this is besides the point- it is all about playing the noticings game- start noticing today! rack up some points.
And its part of the newly arranged area on flickr called the App Garden– a place to find those clever apps people outside of flickr create with the API- where noticin.gs has a nice corner garden spot