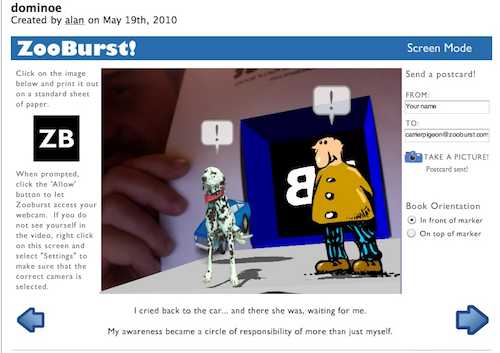 This is the newest Dominoe story created in a tool so new and exciting I don't have a category.
I heard of Zooburst first in March 2010 at the NMC Symposium on New Media & Learning when Craig Kapp did one of the most outstanding presentations I'd seen anywhere, a session on the Augmented Reality projects he has done in a year at NYU (see the presentation materials, including a YouTube video of the whole session).
We've also been pegging Zooburst it as an example in the recent NMC Horizon Reports. It is a web-based content creation tool for making a 3D story that pops up on a page when viewed on the screen. You can have 10 pages in a story, each with a caption.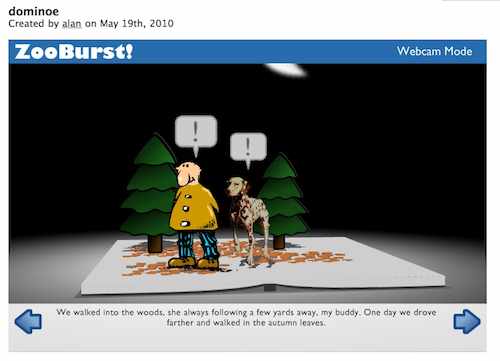 Even viewed on the web it is impressive, you can spin the book around and view it from different angles. Any object can have a thought associated with it (click an "!" and you get a comic bubble).
The authoring interface is well designed, and fairly easy to use; it takes some practice to learn how to place and move objects. What is clever is that it is connected to an Open Clip Art vector library which offers a nice selection of objects, characters to use. In addition you can upload your own images- I made a few dog characters by masking the background out of my Dominoe photos and saving as PNGs with transparent background. It remembers objects you have used so you can re-use them in subsequent pages.
I spent about 90 minutes making my AR version of my oft told story, most of that learning how to move things around. Also, I found that you have 10 pages to work with, and given my story has 18 frames, I did some combining– I dont see this as a problem, I like the creative challenge of working in a limit.
But the magic happens when you flip the view into Screen mode as shown in the top photo. You just need to print out a page with the augmented reality marker. When you hold the symbol up to your web cam, the box on the paper appears to flip open, the book opens up and your story is now there in 3D, you can move the paper around to move the characters.
So here is the Augmented Reality version of the Dominoe story which, nicely, you can also embed in a web page:
This was a bit intoxicating to explore, and I need to pull back and consider why this might be an effective approach beyond the WOW factor… but WOW is pretty good, right? This is just in time, as in about 5 and a half hours I am doing a 50+ Web 2.0 Ways to Tell a Story session via Skype to a group of teachers at the College of Wooster.
Update: I heard from Craig, and the next version of Zooburst is going to have no page limit and some nifty new features, like the ability to record audio for your characters to speak with! If you are excited about this, come to the June 2010 NMC Summer Conference where Craig is doing a pre-conference workshop on Augmented Reality in the Classroom