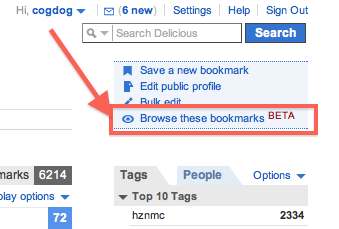 Did someone say beta?
That really gets my attention when I see it, I just cannot resist a click of curiosity.
I don't know how long this has been on delicious.com, but I am ecstatic to see that the venerable social bookmarking site is still tinkering under the hood.
So from what I see, this gives a way to use delicious as a web browser bar, so you can navigate through a tour of tagged sites. You can browser your entire tagged stream, or tour mine at http://delicious.com/browsebar/user/cogdog/, or from a view of tagged sites, you can browser just that.
For example, these are all the sites I have tagged for the 2010 NMC Horizon Report (click image for full size)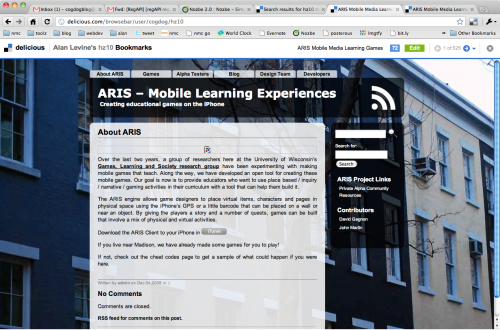 The drop down menu in the upper right allows you to jump farther back. It's like a tour through your tagged sites.
Here's another approach. For tracking my presentations, I have been tagging them presentation plus the year, so I have links (and RSS feeds) for my 2009 presentations, my 2010 ones, etc (for even more fun, I run the RSS feeds through a nifty tool to post as my Best of Show) — but now, rather than just a link I can create a tour: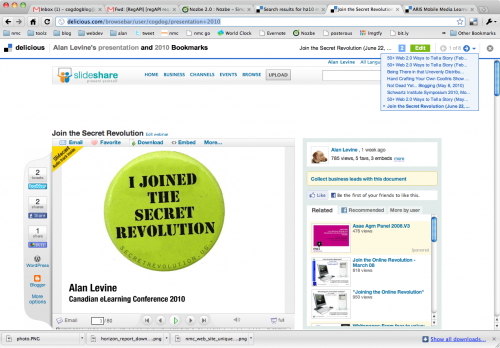 or directly http://delicious.com/browsebar/user/cogdog/presentation+2010
Nifty, eh?
What also I had not seen is that the search results in delicious show a histogram of activity, so you might be able to spot a trend… like this event seems to be popular.
I like it when you stumble on these gems.