I'm going to take a wide turn around the iPad vapor huff; whether or not it is the Game Changer that Will Herald Trumpets of Change or it is The Death Knell of Freedom as We Know It.
I have one and like using it. That's my stand.
Yet, the process of moving content on or off the device I agree leaves me wanting. Or frothing.
The thing is, its silly to rule out the potential of a device for the snapshot of its current capability, especially when the capabilities can be changed via software. The iPad is not cast in stone.
Oh, but back to the point. The movement of documents onto the device via iTunes is so awkward, stupid, and lame I refuse to even fool with it. I don;t want to sync when I need a doc; I want to reach out and grab it.
My current favorite app for dealing with this is GoodReader – not only is it an elegant reader for PDFs, it manages word docs, presentation files, video, etc. It is a GreatReader. But what I like is the many ways it offers to get files into the device- you can transmit them from a compute rover wireless, you can connect to your Google Docs, you can go through ftp, and best of all, you can grab your docs from DropBox.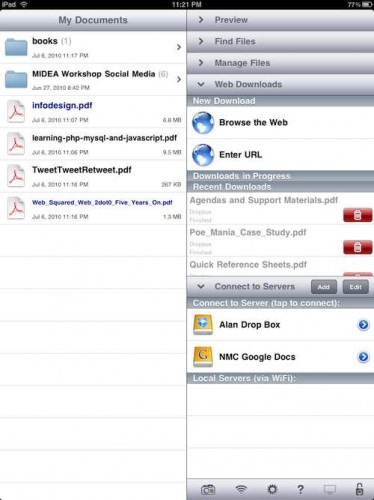 Mainly I have used GoodReader as a means to get things I want to read on the pad. And for you file and folder freaks, you can set up a hierarchy to organize your GoodReader docs.
But what I just tried was the free GoodReader USB app, which allows you to connect any iThing to your computer via USB, and just drag and drop files to transfer them, even folders of docs or multiple files: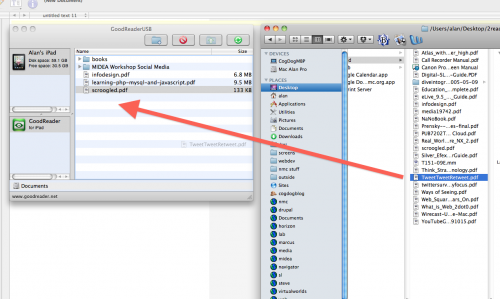 Wow, it feels like just moving files between windows on my computer.
Now it is still lacking on ways to move files FROM the iPad back to my computer. Good thing I got good old email sneaker net (though Office 2HD has been useful for editing Google Docs).
Okay, the affordance of reading a PDF while laying on my hammock or having enough battery to read for two laps around the earth (I am making that up) make me feel like I can wait for the file movement bumps to be settled out.
For what its worth, the tagline on my iPad email is:
I keep forgetting that I can't create things on my iPad.
Thanks GoodReader for a great app!
UPDATE: (July 8, 2010)… Steve Dembo takes GoodReader to a new level with the ways you can use it to run a presentation from an iPad