Harrumph to people who gave up on RSS readers and really are deluded that they can get all their news via twitter; its now my secret weapon of discovery. It was there I found in my techie feeds a story that my bank (Chase) has added the capability to their iPhone app to deposit checks.
I had liked over the last year how they updated their ATMs to scan checks for deposits negating the need for deposit slips and envelopes. This is one more step.
I already had the Chase app, and sure enough it is in there– well I did have to generate a new security code (shows you how much I use the app)…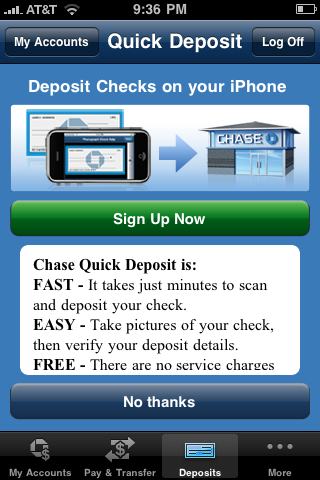 So it looks like you have to do photos of the front and back of the check, and there are limits to the service (no more than $1000 per deposit or $3000 per week).
For you urbanites who have a bank branch for every Starbucks it may not be a big deal, but I am more than 20 miles from a branch, and each time I get a travel expense or other check in the mail, it means a drive into town. Not anymore.
And yes, I can hear all of the weeping and moaning about security. Sure its more secure to shove a piece of paper representing money into a metal box, there is no way that ATMs can be burgled, eh?
I'm game to try,. If anyone wants to mail me $100 I'll let you know if it works 😉