cc licensed flickr photo shared by cogdogblog
It's a few weeks gone by in the rear view mirror, but like last year I wanted to post some notes from the social media aspects we wove into the 2010 NMC Summer Conference. Our host this year was USC, but we had the conference in Anaheim at the Disney Resort.
If you want just the headlines, I;d say Twitter Was Big (No Surprise) but this year with More Insights, Photosharing Was Slightly Down, Conference Blogging is a Win, and There's No Match For Being There.
Pathable Social Media Site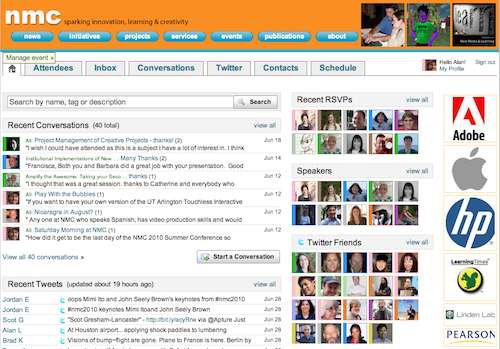 This was the second year we use the service offered by  Pathable that provides a platform for connecting and communicating with other attendees. We are able to create accounts for all conference attendees via an API from our own custom registration system, and it transfers some of their user profile information from our drupal powered web site.
In your pathable profile you can provide links for your social media presence- so it can aggregate your flickr photos or twitter messages via the defined tags for each. But what I like is how we can set up a few questions that people provide tag or keyword responses to- and a few things happen from this.
One is that each links to show you who else attending used the same tag. Then each tag can become a way to message these people- like all the Second Lifers or the photographers can communicate via pathable messaging (these can show up in email or your phone).
The other thing it does is it can make recommendations for you to people with similar interests (as measured by self applied tags). You can direct message them or request a meeting.
We import the conference schedule into pathable, and it figures out who is a speaker based on the user profiles. As a pathable user, your own profile shows both the scheduled times you are speaking as well as sessions you have added to your own personal schedule.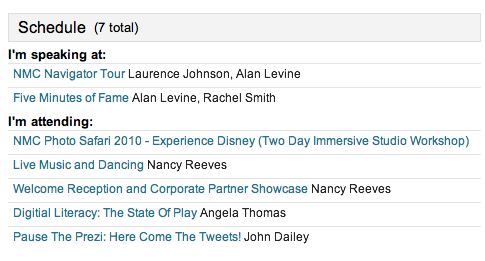 And since it taps into your twitter account name, it can even show which of your followers (or is it followees) are in the system:

There's a bit more to it (like a mobile interface) but I do like they many ways Pathable leverages and provides connection points for attendees.
Even if you were not at the conference, the discussions and other activity are available to public view at http://2010.nmc.org.
Over half of the conference attendees were active in the pathable site, with a peak of nearly 3000 views on the first day of the conference.
This year we asked conference attendees to identify their "New Media Superpower" as part of their profile (we had in mind a possible game or conference side activity to do with this, but it never materialized), giving us a peak at our conference audience as self identified, the superpowers listed in order of popularity were:
Creativity (47)
Collaboration (32)
Vision (22)
Resourcefulness (20)
Insight (16)
Information Sharing (14)
Technical Expertise (14)
Leadership (6)
Reliability (4)
Courage (3)
A few goofs I made in setting it up was creating accounts in advance for presenters. The idea was to have them go in early and populate the site with messages, and to post questions to their own session entries. There were a few hiccups when they later registered for the conference, and ended up with duplicate accounts. I had to do a bit of manual account tweaking to clean this up.
We use the messaging to send information to all registered participants and to try to draw them into discussion ahead of the conference. This fell a little flat on amount of activity. I could theorize reasons (end fo semester focus, just too much email to attend to). There's no reason why there could not be more activity after the conference, but I dont have too many pipe dreams there. It just points out the conference activity has a sharp peak and fall offs on either side of it. FOL.
That aside, many people commented at the conference how much they liked Pathable. It certainly provides us more social hooks than the efforts to get people tagging and posting blog entries in years past. I can certainly see us using Pathable again next year.
Photography and Photo Sharing

cc licensed flickr photo shared by marj k
We usually have a solid core group that does a lot of photography and flickr posting during or after the conference- in 2009 we had nearly 2500 tagged flickr photos. I fully expected more this year.
Twenty participants signed up for the "Photo Safari" pre-conference workshop, which included an intense day of photography inside Disneyland guided by Sport Illustrated photographer Bill Frakes and Don Henderson of Apple (a pro with the camera in his own regard) It was rather unusual access we had to the park, including secret back passages, and perches in areas the public could not get to.
These guys are amazing, natural teachers, and its amusing to see how they sort out their sometimes opposing approaches to photography. Bill's is- "Get it Right At the Time You Take the Photo" and Don's is "Wait Til You See What You Can Do in Post". It's stunning how Bill can look at a scene and rattle off the exact exposures one should use, but more so to see what he senses as the key subject. I also know for sure I am going to be a lifelong happy amateur photographer.
This was followed by second half day day in the computer classroom learning how to process photographs with Aperture 3. My big takeaway this year was learning hands on how to use the brush adjustments and a few new ideas to deal with extreme exposure adjustments. Don helped me do somethings I thought not possible with a photo of Peter Samis – there was almost no detail at first in his hat, but by dropping the exposure extreme to pull out the detail there, we were able to bring up the details on his face using the burn tool in brush mode.
Oops, I digress from social media of the conference to talk about photography. But you know social media is not really about the media end, it's the social.
You can see the outcomes of the workshop via the best photos selected by each participant in the 2010 NMC Summer Conference Photo Safari slideshow. We had an amazing group, one whom had never used a DSLR before, one who was learning to use a recently acquired camera. A fascinating aspect is seeing how a group of people can be taking photos from the same vantage point of the same subject, and yet capture a wide variety of images. There is a tagged set of images from this group on flickr.
Yet, this was a much different experience than last year;s workshop at Point Lobos- in that one, the pace of movment was slower, and we had time to contemplate a scene, and try to find the interesting element hidden in the view. Disney was overloaded with visual stimuli! Plus, our schedule had us moving fast- 20 minutes here, 30 there, move to the next. It was good that it was different, it made you have to react quicker with the camera. As it was though, we had great informal lessons on keying out backgrounds, and doing motion shots on the carousel.
For me, like last year, this kind of experience was superlative for a conference activity. It was not doing a workshop in a computer lab, it was not sitting in a session. There is a huge amount of bonding that happens for participants, who end up teaching each other too.
For photo sharing at the conference as a whole, our numbers are down from last year over 1400 photos tagged nmc2010 shared in flickr  by conference participants. I am lacking an explanation. Again, I'd only be guessing at conclusions. Maybe people are doing less photography? Are they too busy tweeting? Or maybe it was the venue being different? (and yes, there are more photos of Disneyland in the stream than of the conference activity).
Something we added this year was making an effort to select the top photos. During and after the conference, we commissioned a group to identify the 18 top photos that captured the conference experience, which we assembled into a flickr gallery you can see at http://go.nmc.org/nmc2010-flickr. We asked people to add an extra tag of "nmcbest" to get the judges attention, but not too many people got the memo.
Out of these, our judges then voted on their favorites, and we awarded Amazon.com gift certificates to our winners:
Conference Tweets
It is not much of a surprise that twitter was the most active social media channel at this year's conference. Before the event, we set up a twapperkeeper archive that collects all the twitter messages with the #nmc2010 hash tag  (they do not last on twitter and the Library of Congress is not yet storing them). 
From twapperkeeper and the new added on Summarizr service from eduserv we have some more insight into the conference twitter activity (see the full set of summarizr stats for #nmc2010).  I am really intrigued by the data we can get from Summarizr (I had heard JISC was working with twapperkeeper on some added features, wonder if this it? Kudos to Andy Powell for this great new tool).
In twapperkeeper archived 2472 tweets from 325 different people. This is up from the 1875 we tracked last year (we did not have twapperkeeper set up, but Pathable provided a summary for us). So tweets are up.
I salute everyone who tweeted but recognize our top ten tweeters:
Look at that- it's almost a perfect 80/20 rule in action. 80% of the tweets (1977 of 'em) were made by 19% of the tweeters (64)
175 tweets is a new NMC summer conference record, pegged by @skiley1013! The top people who received repiles to their tweets were:
zephoria (49)
BryanAlexander (48)
susansimon (40)
GardnerCampbell (38)
skiley1013 (35)
jseelybrown (32)
soul4real (29)
JSeelyBrown (28)
Mojojohanna (26)
cogdog (25)
There are a few dimensions to getting @replies- a large following like dana boyd (@zephoria) and John Seely Brown (@ JSeelyBrown) or people who just were very active on twitter, or just people like Gardner Campbell and Bryan Alexander who say things worth retweeting.
And there were 270 URLs shared via out twitter stream- the top 10 ones shared were:
It was actually my hope to get people to sign up (via Pathable's session mini wiki) to be part of a Twitter Patrol (see http://www.nmc.org/2010-summer-conference/twitter) – if we had at least one person tweeting in a session, we could get the highlights saved for all sessions. I dont think we quite got there, but a dog can dream, even if it is just the twitching leg running dream.
Still, the activity level fot twitter has the highest, and of course we will support it any way we can. I am remembering to set up a twapperkeeper notebook for any event we ask people to use a hash tag, and the additional features of Summarizr add a huge value there. There's lots of data in twitter activity to mine.
I'm alos hoping to find some time real soon to explore the new 140kit set of open source twitter analytic tools http://140kit.com/.
Conference Bloggers

As it was successful last year, we again set up three people to have special seats (front row, with electric and hard wire ethernet) in exchange for them blogging the plenary sessions. And like last year, we got some top notch writing from our Conference Bloggers.
We invited registered conference participants to submit their interest via a Google Form, and we selected the following team:
Blogging lives, eh?
Conference Videos
For a list of logistic reasons worthy of their own post, we did not do any live streaming of the main sessions this year. In the short answer, we did not have the staff or equipment to get this going (we did try some on site testing with ustream). Now I know people will say it does not take a whole lot, but we decided to focus our attention on the audience that is here. We did have video captured of the plenary sessions and have posted them online.
We are making the conference videos available from the NMC web site as well as from a playlist on the NMC YouTube Channel -what we have available is: 
Our keynote sessions this year were both outstanding, and I can highly recommend both videos.
Congratulations to this year's winners of the NMC Centers of Excellence Award – you can see each video created by the recipients 
Houston Community College System The HCCS Instructional Media Center/Curriculum Innovation Centers was recognized for their exemplary approaches to hybrid and online learning, faculty training, and instructional support.
Pennsylvania State University Education Technology Services at PSU was recognized for their exemplary programs in support of emerging technologies, faculty innovation, and online learning.
Tulane University Tulane's Innovative Learning Center was recognized for their innovative flair for learning spaces and their outstanding support of students and faculty.
These Centers of Excellence Videos are always a highlight, and it is interesting to see how the winners take different routes to present themselves- sometimes straight up documentary, some do just high end production, and some go over the top with the humor (see the entire archive at http://www.nmc.org/coe.
Lastly, the final part of the conference is the invitation to the next year's event- and there is always a video invite. The hosts for NMC2011, University of Wisconsin-Madison, pulled out the stops for their own video (they promised snow!)
That's another year of this conference gone by in a blur!