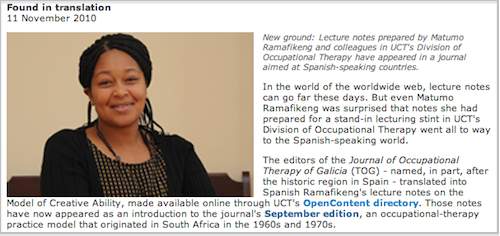 The best thing in my email box today, or maybe this month, was a message from Michael at the University of Cape Town:
Hi,
Last year your 'Amazing Stories of Openness' provided excellent fuel for our campaign for open scholarship at the University of Cape Town. I now have an amazing story of openness to share with you! It would be great to add it to your collection, if you are still curating it.

One of our open educational resources contributors had her shared content picked up by a journal in Spain. As a result, her work has been published in the Journal and translated to Spanish. This is a great case for the open sharing of academic work as openness here led to the publishing of a journal article. See the blog post below for the details.

http://blogs.uct.ac.za/blog/oer-uct/2010/11/12/from-uct-opencontent-to-a-journal-article
And like the other stories (plus the set added in 2010), this was not necessarily huge Change the World Amazing, but just one more bit of goodness wrought by openness, or how Michael frames it:
This is a great example of how openness can lead to benefits for people working in academia. It's not all about giving it away for free; it's about operating transparently so that others can see all the great work we are doing. Operating openly allows us to make connections with other people and have opportunities that would not be possible in a closed system. The internet enables this openness; we just need to embrace it!

In this case someone found Matumo's teaching materials and considered them so valuable that they wanted to share them more widely though the journal. Matumo still gets all of the credit for the article and can add a publication her list of accolades!
With some more details from a news story about this, we learn that Matumo Ramafikeng's story started when as a Masters student she was doing some lectures as a stand in, and at the suggestion of another colleague, expanded her lecture notes into something much more on the UCT's OpenContent Directory (http://opencontent.uct.ac.za/).
The material helped her students locally, but because it was shared openly, was discovered by and published in a paper in a Spanish journal. You do not get Amazing with your stuff tied up inside a CMS or a locked down repository. Just look at what can happen at http://opencontent.uct.ac.za/.
To Michael's question and anyone else among the tens of thousand Amazing stories out there, you don't need me to collect stories or produce videos. Blog it, but do more- answer the call and record your own story in video format- it is much much more Amazing if you tell your own story, in your own voice and words. I'd love to add more.