cc licensed flickr photo shared by dannyphyo
Take a long nap, Jack,
Make a big snore, Elanor.
Dont need to be awake, Jake,
Just listen to me.
Eek, time slipped away and I was not paying attention to ds106 assignment 3 referring to 50+ Web 2.0 Ways to Tell a Story.
I'm excited to see what people create 'cause it means I will have a bunch of new examples to add to the site.
A caveat, I've been dragging my paws on updating that site. Well, I did start with a new one, but it is not filled out — I have a new design that will be (hopefully) better organized/structured, and offer more routes in to have people contribute. But alas, it is about 48 short, but FYI can be found at http://50ways.wikispaces.com. As is, the old one is most complete, but keep in mind that some of descriptions are a bit outdated.
a href="http://50ways.wikispaces.com"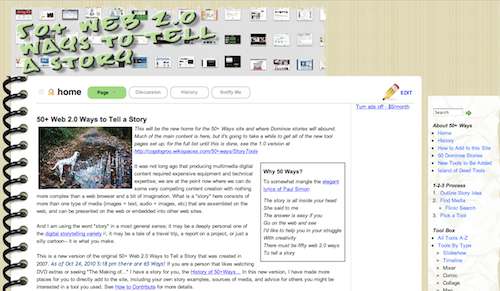 Read more about the new version at http://cogdogblog.com/2010/11/03/50ways-2-0/ but mainly, I wanted to let ds106 folks know that there is a raft of new tools in the wings.
And this might be the kick on the flanks I need to wake up and finish the update. Well, after I figure out what new things I can create besides another Dominoe story.
And…. after I finish this nap.

cc licensed flickr photo shared by The Little Pecan