There is a lot of new stuff happening with web technology every day, hour, minute, and then there ones that just make you stand back, like Neo, and say , "Woah"
I just had that after playing with the BBC Dimensions site http://howbigreally.com/ – it describes itself well:
Dimensions takes important places, events and things, and overlays them onto a map of where you are.
Or more detail
Dimensions is an experimental prototype for the BBC. We want to bring home the human scale of events and places in history. The D-Day landing beaches measured from London to Norfolk in the UK. How far would the Titanic stretch down your street?

Dimensions simply juxtaposes the size of historical events with your home and neighbourhood, overlaying important places, events and things on a satellite view of where you live. Certain "Dimensions" can be transformed into short walks, so you can get a physical appreciation of the distances involved.
It is a fantastic way to put historical and current events on a human scale, but overlaying the extent of ancient cities, natural disaters, even the moon, on any where you pick on a Google Map (usually your house).
Here were a few I played with in about 10 minutes:
The Great Wall of China Built Over Phoenix Arizona

Some people in the US really want a wall on the southern border- China has experience in projects like this.
http://howbigreally.com/dimension/ancient_worlds/great_wall_of_china#phoenix_az
The 2010 Gulf Oil Spill Happening in the Grand Canyon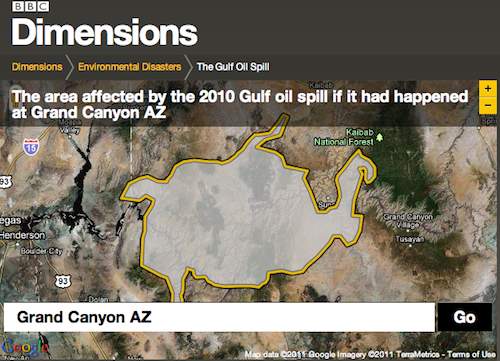 This is why we do not allow oil drilling in our national parks (well also because there is not much oil down near Phantom Ranch)
http://howbigreally.com/dimension/environmental_disasters/gulf_oil_spill#grand_canyon_az
The Mars Rover Roaming From My Home Town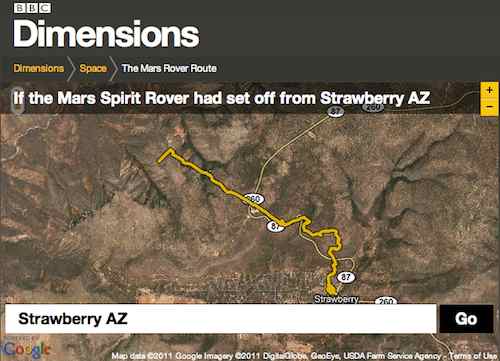 The Mars rover could easily drive up AZ 87 to the top of the RIM- that off road stuff is going to be tricky as it dashes down a canyon.
http://howbigreally.com/dimension/space/mars_rover_route#strawberry_az
I can see all kinds of potential for learning activities using this tool -and you can see that once you do an overlay, you can easily share the URL for others to look at, use, modify. Dimensions has categories of
Woah.
I am just now waiting to see if my favorite cycnical historian has criticism ;-)
Woah!