cc licensed ( BY ) flickr photo shared by cogdogblog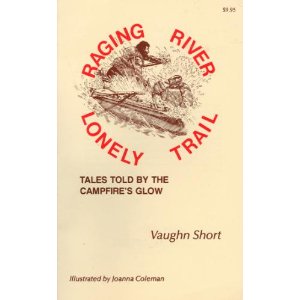 Today's excursion in the Fossil Springs Wilderness Area was both mind cleansing but also connected me with the memory of another trip, to a much bigger stream, back in 1991 when I did a 9 day Grand Canyon river trip. I was also reminded after discovering under a pile of dust, my copy of Raging River Lonely Trail, a book of poems/stories that one of the river guides used to read out loud during the calmer sections.
I decided to read two selections on ds106 radio, and most fun was reading Floyd's Void, an ode to Floyd Dominy, the maverick leader of the Bureau of Reclamation during their days of addictions to building dams on western rivers.
Fot an amazing read on this part of history, I cannot more highly recommend John McPhee's Encounters with the Archdruid, in which the author traveled through Glen Canyon prior to the dam being built that buried the canyon– with two opponents on western water use, Dominy and Sierra Club's David Browser. Going father into the hijinks, trick mirrors, and political gaming of water rights, I also suggest Marc Resiner's Cadillac Desert.
Anyhow, here's me reading poems and rambling–