cc licensed ( BY NC ) flickr photo shared by WanderingtheWorld (www.LostManProject.com)
I'm in California for both R&R but also to fulfill a presentation obligation I made back in the end of 2010, for the Mt Diablo Chapter of the ASTD on the 2011 Horizon Report. This was a fun, high energy and wired group (or they all stopped for a huge group espresso on the way in). It was great to meet in person Paul Signorelli, who served fantastically on the 2011 Advisory Board and also to see Clark Quinn, author of Designing mLearning plus all the others I got to meet tonight.
The slide deck is mostly photos, but here ya go
And I have a list of extra linkies at http://cogdogblog.com/stuff/astd11/.
But the real special part has having Rachel Smith there, who did this presentation last year, to do a visual recording of my talk- which sure looks prettier than what I thought I said. Be sure to check out her lovely visual work and more at her blog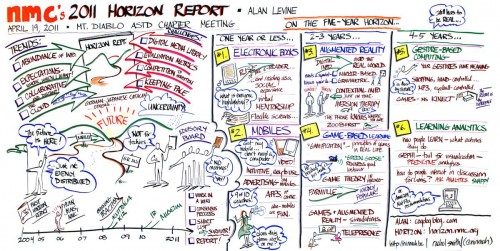 So once again, thanks to John and Angie, and others who were kind enough to invite me to visit their meeting.
Bonus! See the mindmap of this talk created in real time by Clark Quinn