I won't apologize for being a day behind but I am so sorry I am a day behind. This is a tough pace, but certainly no race.
Folks, if you think that ds106 is dangerous

cc licensed ( BY ) flickr photo shared by cogdogblog
Here is proof…
So here, as a quicky, I used one of the many cool flickr gadgets at jd's flickr toys, this one allows you to turn any flickr photo (or other that you can upload) into a motivational (or demotivational) poster.
Radio can do this to you: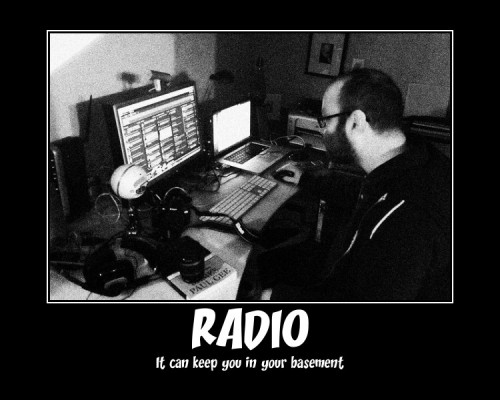 This is also tribute to one of the longest running snark worthy web sites, despair.com, which I fondly remember form around back in the 90s with their demotivator posters, but now they have a whole range of mocking products.
Thanks to Mikhail for showing me his basement lair, where he is exiled in NJ.