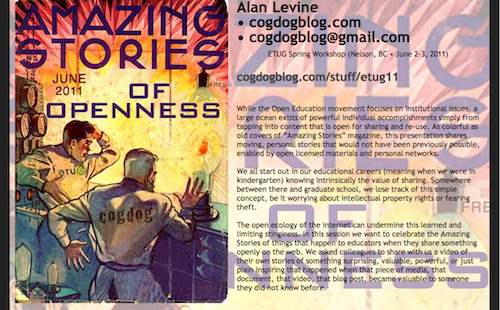 I'm releasing a day early the collection of Amazing Stories of Openness I will show tomorrow at the opening of the ETUG Spring Workshop in Nelson, BC. These are just the videos, for the session, I have a few surprises up my sleeve, and may even gamble on doing a chunk of this w/o any visuals. So, yeah, bryan Alexander, go ahead and tweet it- your video with the axe was the first one I recorded and is a gem.
The stories are up now at http://cogdogblog.com/stuff/etug11/ — the FLVs are bigger than I usually do, as I am running the site locally tomorrow, and want crisp videos. This is doing the CoolIris shtick for the wall of media.
The bulks of these I recorded on my iPhone hitting up people on my travels over the last few weeks. I do want to give a nod to Scott Leslie and Karen Fasimpaur for being the only folks that actually sent one on their own. I gotta take some lessons from Alec Courosa and Dean Shareski on doing better at getting other people to do my presentations.
Anyhow, I'm winging my way to Castlegar, BC and from there onto a merry trip. I likve a conference that opens with a beer party and hockey. Well, I admire the hockey, I dig the beer.