cc licensed ( BY NC ) flickr photo shared by sayhellotojessica
Well, actually I wont be there unless you ask.
I've had some people request a means to get updates from here via email, namely for the upcoming road trips. Yeah, e-mail. that dead thing. I looked at adding a subscription plugin (likely Subscribe2), but before adding another plugin to my blog house of cards, I speculated there might be another service to handle the load.
And voila, it is Feedburner — which is now a part of Google, so its a service many of us have. You can set up a Feedburner thing for any RSS feed, and I did have one there for CogDogBlog from a while ago (I considered doing one for say the RSS feed for a category, but opted for the whole show).
So it uses my blogs RSS feeds to send email notices to people who want it. I added the signup code to the far right sidebar: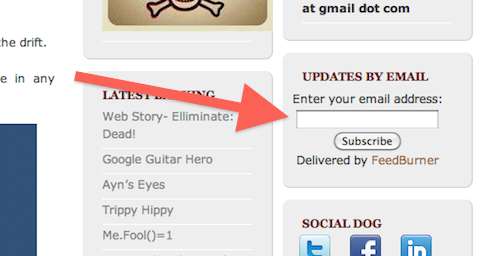 but you can also just link right to the signup form.
It would help if someone could test this out, though I can check the subscription numbers via feedburner.
UPDATE: I have word that the emails are coming- I had forgotten that when I set mine up on Feedburner that I had spliced in my delicious and flickr activity; not what I wanted here. Now the subscription should just be posts from the blog here.