cc licensed ( BY NC SD ) flickr photo shared by giulia.forsythe
As one of the converted, its hard not to be electrified after Jim's keynote at Open Ed 2011– I can only guess what the energy was like in Park City.
I was fortunate to be listening in with Gardner Campbell from his office here at Virginia Tech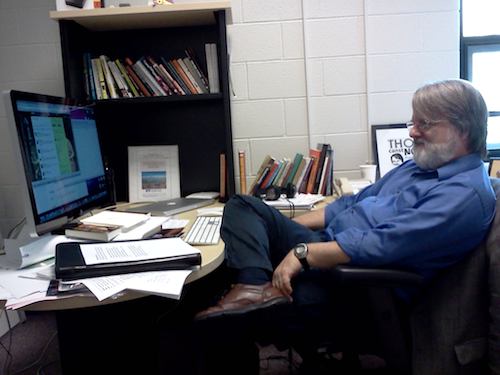 And he was sure smiling a lot given Jim's (well deserved) mentions Gardner's way for his "No Digital Facelifts" talk, or as we ds106ers know it, the Bag of Gold talk (which was ironically or not so, at Open Ed 2009 in Vancouver). Check out the animated GIF representation 😉
As we walked to lunch in Blacksburg (that was at Chipotle's, Jim!) I recorded a quick audio recap with Gardner reflecting on the talk.
Recap of Jim Groom's Talk with Gardner Campbell
We love ya, Groom. We all do. We are experiencing.