cc licensed ( BY NC SD ) flickr photo shared by Ð…olo
I'm far from the first (or last) person to note this, but twitter is patrolled by some interesting automated bots. The obvious ones are cute- I noticed this a few months back, when I tweeted some snarky reference to Lebowski, that the @BotLobowksi would respond with some mention to something like tying the room together.
It's cute, right?
I had another one today- I saw Dean Shareski tweet something about a failed food preparation, and it reminded me a bit of Office Space, so I tweeted something about he should not forgot to fill out his TPS Reports.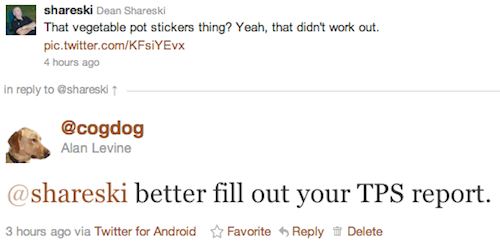 Ha ha, me just being a smart-ass (and Dean is still not replying much to my taunting tweets; I am losing my touch).
But in a matter of minutes, I get a relevant response from @Initech_Bill: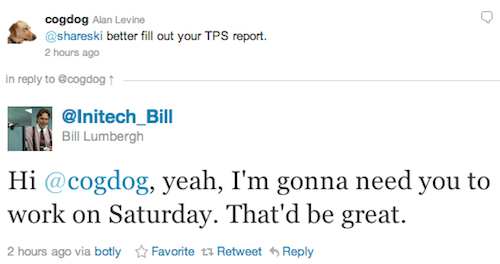 Again, cute- but look at what it is doing- it pays attention to twitter for references to relevant content (e.g. phrases from the movie Office Space), and replies, but with something that is also tapping into the same reference.
Look how well Bill's twitter profil matches the character:
They are not all the same reply- it is tapping into a database of different replies.
Bill's profile leads to an info page on the twitter bot, other ones created, and a github posted library of code one could in theory use to create their own twitter bot.
Big deal- what use is creating twitter bots for responding to movie references? You should think more broadly, it is showing that twitter can be more than a social media wind bag channel or silly status space, that ti can actually be a somewhat intelligent (used loosely) communication channel.
So there are a host of services that can deliver info based on using twitter messaging. e.g using it to add appointments to a Google Calendar or tracking packages, or a really easy means to send yourself reminders.
It goes even farther- there is a whole service for setting up such services, @t411.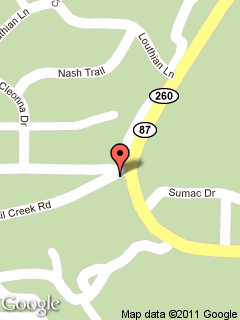 I just tried on Demand Maps via twitter by sensing a public message:
@t411 map Strawberry AZ
And it returned a mobile friendly static map image- you could use these while lost to get sent directly a map of a specific location (might be easier than fumbling around with map apps?) Its not that it is the best way to get mapped data, but it was done dynamically, and on demand.
So now I begin to wonder, what sorts of services we do in education, teaching, that might leverage this form of communication? The tech is not hard- it is pretty much what one of the ds106 students did last Spring to create a bot to post the current content playing on ds106 radio. That simplicity is the interesting part to me, and then what could be done by adding more advanced capability.

cc licensed ( BY NC SD ) flickr photo shared by Ð…olo
An assignment reminder bot? an FAQ bot? A bot that responds when someone mentions having trouble with a particular class. ideas?
Twitter Bots can be made for doing useful stuff!