cc licensed ( BY ) flickr photo shared by cogdogblog

cc licensed ( BY ) flickr photo shared by cogdogblog
Today was the day many people around here in Mom's neighborhood were waiting for- a chance for them to show their love and sorrow and memories for Alyce at a memorial tribute at a place that became a hub for her, Temple Judea.
A room full of people were there, each one with a dear story of how my Mom impacted them. There were at least 20 people from her neighborhood. In a time when people suggest we are more disconnected as neighborhoods, I offer Tall Pine Circle as an exception. For the week my sisters and I have been there has been a parade of neighbors coming by to share how special Mom was. And they did so again today.
There were two ladies from the bank my Mom visited each week as part of her rounds of being the book-keeper for the Association, bot talking how Mom would light up the bank when she walked in with her cookies. How often to businesses connect like that to customers?
Andf then there were the people from the temple, ones who told how Mom welcomed them, how much Mom's smile was part of the scenery, how she ruled the kitchen with a firm presence, many who raved about her cookies, her kugel, her tuna fish, her deviled eggs, her stories of butterflies.

cc licensed ( BY ) flickr photo shared by cogdogblog
All of the ladies who worked with Mom in the kitchen talked about Mom sharing how each of her recipes had a "secret" ingredient… the irony of her telling everyone the secret… peanuts in the chocolate chip cookies, apples in the kugel, sour cream in the tuna fish. And we all know the real secret of Mom's ingredients- how much self-less love she had for everyone.
We have a lovely collection of written testimonials as well as the words shared today, especially JoAnn and Jan from the temple, and oh oh oh how I wish I recorded the warmth shared by her neighbor Jonathan from across the street.

cc licensed ( BY ) flickr photo shared by cogdogblog
I had a chance to say something and took the liberty to record it as I knew in the rush of emotions I would forget what I was saying. Some of this was what I said at her graveside in September…
I still have not really faced up to this loss, that this was the week I had planned to be visiting with Mom here at her house, not emptying her stuff out. With some irony, I had noticed that on my travel map I still had the spot labeled as "Visit Mom (get my crap out of her garage)" a reference to the ds106 radio cast where my Mom told everyone I needed to get my stuff out of her garage.
The thing is how much I thought I knew my Mom, she would continue to cause me to underestimate her. I knew she was well connected her, but really missed the scale and magnitude and range of people she touched, and in a most genuine way. Mom would always surprised me with our times together with her willingness to try something new, or to say something outlandish.
I cannot even begin to measure the size of this loss.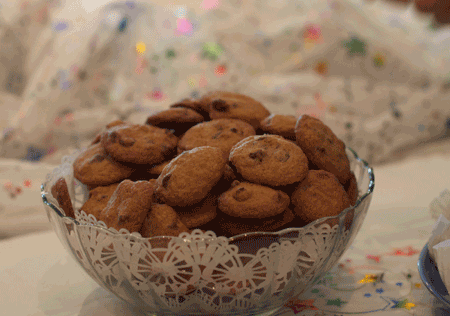 I want to add a bit that on Friday night my sisters and I worked in Mom's kitchen to make her chocolate cookies to give out today. They did go quite fast. As Judy and Harriet and I worked– well they did most of the work, I spooned out the cookies onto the tray and documented the event…

cc licensed ( BY ) flickr photo shared by cogdogblog

cc licensed ( BY ) flickr photo shared by cogdogblog
I have about 20 minutes of cookie making noise and stories shared:
Making cookies in mom's kitchen
I'll still be checking for #cookielove bits to add to the storify collection
http://storify.com/cogdog/cookielove
but think my circle shall close when I return to my home in Arizona and make my own batch of cookies.
Until then, well Mom, you are always with me ("do you hear me?")

cc licensed ( BY ) flickr photo shared by cogdogblog

cc licensed ( BY ) flickr photo shared by cogdogblog