Via a comment on a recent posting of three photo animated gifs, I found GIF Exploder which might be a handy ds106 tool.
It allows you to upload an animated GIF and it unbundles it into separate images. Whyfore might thou do this? Sometimes you don;t know in advance, but I took a play with one of the high end falutin cinemagraphs- I love this one of Edward Norton's wake up in Fight Club from if we don't, remember: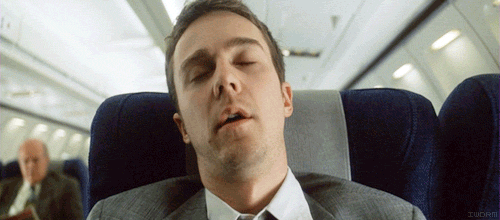 It plays it well, because the animation fits the scene; nothing happens until his eyes pop open, and then he drifts back.
I might see GIF Exploder as a means to explore the making of- or even if you wanted to do a remix, and say, introduce a pink stuffed animal in his lap (whatever). You could Explode it, insert new frames, and reconstruct the GIF.
Or just to parse out the frames– here is what I got from running this one through te exploder- it is 78 frames (see left). At first seeing this one weigh in at 512k sounded big, but now, given that it has that much packed in, the compressive is impressive, and the quality remains high.
I am curious about the use of so many frames rather than perhaps adjusting the frame time, but it is likely there is some subtle variation I have not seen.
It's funny that when animated GIFs started the thought of one at 512k would have been laughable in those dialup days.
Of course you can explode the Animated GIF by opening it in PhotoShop and opening the Animation view. And here you get the frames as layers, and could easily do File – Scripts – Export to Layers to Files.. but if you dont have photoshop, or maybe just want an easy way to grab a few frames, try Gif Exploder.
Is there another idea for why you might see it useful to explode an animated GIF?