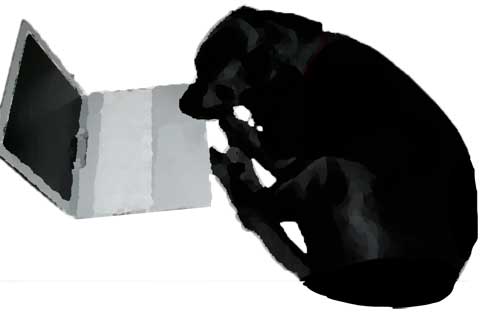 Dog on a laptop.
It's time to warm up the ds106 assignment muscles, given that it is almost 2012, and things are already ramping up as evidenced by actual posts going on over at bavatuesdays.
My plan is to comb through the assignments and find some that may have been lightly touched; but we are eager to see which ones might emerge as the Suprise Assignment That People Jump On Early and Go Nuts With. Last year it was the animated gif extravaganza, and in September it seemed to be the Messing with the MacGuffin.
Regardless, tonight I almost randomly chose Iconic You– I find the description a bit vague:
Create an iconic image/design for your own site that somehow represents you.
As "iconic" could be taken as a descriptor of any image, like it is symbolic, or more in icon style. I already have my dog icon I use everywhere. This is actually form a real photo of my old dog Mickey, with the background removed, flipped horizontally, and modified using the Watercolor filter in Photoshop. I could have cheated and used that one, but I thought I'd go in deeper.
So this is how I think- obviously I will use a dog photo and since my work/play/life is on the computer, I want an iconic image of a dog and a computer. Ironically, I have a series of them of Mickey's sister, Cadu:

cc licensed ( BY ) flickr photo shared by cogdogblog
I started with this photo in Photoshop using the Quick Selection Tool to remove the background elements.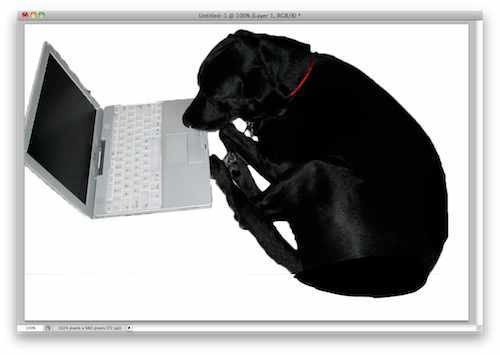 Since her hind part was cut off in the photo, I used the lasso select tool to add a bit to her rump to round out the shape.
To make more iconic style, I used the Palette Knife filer to give it a less photographic look- these were my slide settings:
turning Cadu into the final look shown above: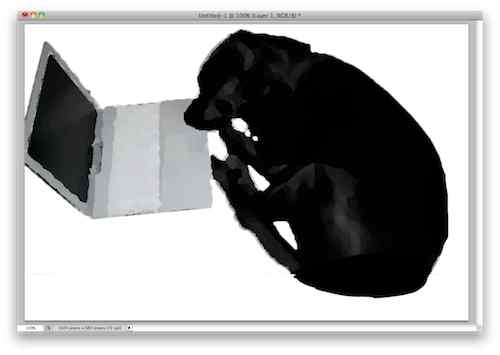 I take it iconic in both ways- it represents me but is also a more graphic interpretation of the photo.
Hmmm.
It's okay, but I could not be satisfied with just that, so I made 2 duplicates of the layer, and made some subtle changes with the brush tools, and selecting parts like the tail and rotating… all in the name of turning it into an Animated Iconic Me: