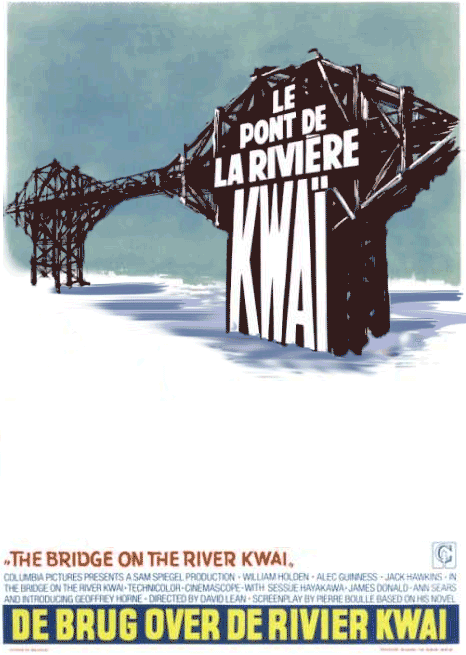 And the ds106 pre-course assignmnet craze moves into 11th gear. Michael Branson-Smith takes the movie poster into a new dimension with his iteration of American Werewolf in London featuring two different elements of movement life sizing the original page. Next, Jim Groom crams about 5 animated GIFs into one with his version of Jason and The Argonauts, turning the whole poster into an action scene.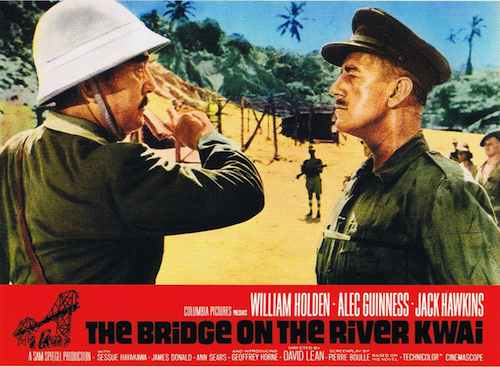 I pondered what I could do in this vein, and also expand some of my PhotoShop animation chops. I settled on a movie that was a favorite of mine as a kid, for no real reason I can explain, The Bridge over the River Kwai. A battle of World War II wills between a Japanese war camp commandant and his British solider/prisoners put to work building a river bridge that would ultimately hurt the Allies, it features William Holden and a youngish Alec Guinness and that tell-tale whistle song. But it is an epic in the power struggle of the three leading characters, Japanese Duty, British Honour, and American Bravado…
With some coincidence the story is based on the book authored by the same person who wrote the original Planet of the Apes, another old movie favorite of mine.
I chose the poster base as one I found at All Movie Poster, because of its graphic style. My approach to this one was to bring it into PhotoShop, and separate key elements into separate layers. This took a variety of selection tools- the Magic lasson, the Polygon lasso, the new Quick Selection tool as well as the usual magic brushing and smudging to fill in areas.
To demonstrate te layers, I did a quick screenr (if the iframe below fails, try the direct line)
In the animation window, I toggled up the other tools on the left to experiment with adding key frames for position and opacity, to make the parts I made move and fade. Its not flash animation, more like the Monty Python-ish sliding things around.
This form of GIF of course needs more frames; this one expanded to 89 frames. The GIF dithering actually adds tom fun to my little painted in explosion.
Anyhow, fitting for the beginning of ds106 comiing soon, the closing key quote from Major Clipton comes in handy. Nothing finer than blowing things up!
Madness! Madness!