Get out in front of this meme or get out of the way! Beyond Cat Breading lies the bizarre space of Jim Groom Breading: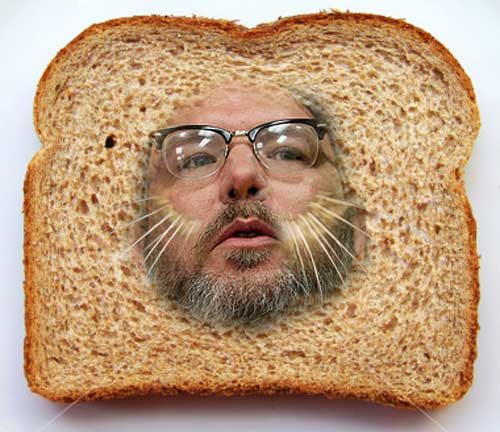 This started with the almost incomprehensible Cat Breading ds106 assignment:
The latest bizarre trend blowing up Facebook mini-feeds everywhere? Cat Breading. (Think LOLcats, but with a trippy twist""each adorable kitten has been adorned with a slice of bread, which encases their little feline face.)"

From this article in Complex's Pop Culture section

So, what do you have to do? Simple: frame a cat's face with a piece of bread and take a picture of it.
Now the Cat Bread Purists will likely insist the true art requires real cats and real pieces of bread, no Photoshopping.
Phoooey.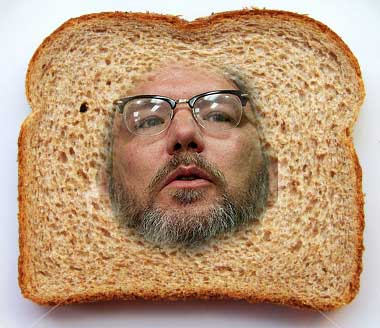 As Jim was describing this assignment to his ds106 class tonight, I was watching on the live stream, and it occurred to me that the most appropriate things to do was to put Jim's face into a piece of bread. That was pretty easy to do- a bit of lassoing of his mug, shrinking the selection area, feathering, and cutting the hole in the bread, which I tweeted out as this image.
Just for giggles.
But thinking about how to use this in the assignments, do I make a new one for Jim Groom Breading? Nah… I just need to convince the viewer that this is a cat! I just found a photo of a cat: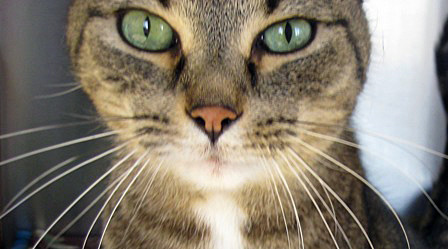 and placed it on the top layer of my masterpiece. Some removal of the tip half, and then setting the layer style of the whiskers to "Lighten" got me closer to the needed but I still ended up using the eraser tool brush mode to get rid of more cat, and then some levels tweaking made the whiskers pop out a bit more.
That Jim, breaded, and on krazy kat. This assignment is only worth 1 star, which is what a slap a cat into the bread in Photoshop would rate, but I took it up a notch.
What can you bread?
If you want to have a go with this, I am sharing the photoshop file which has the whiskers and other parts in separate layers so you can put someone else into the bread mix.
http://cogdogblog.com/wp-content/uploads/2012/02/bread.psd (2.7 Mb PSD)