Day 3 of the Seven Day Daily Create Challenge now raises the ante- after day 1 and day 2 of drawing and photographery (easy peasy), we have a video challenge. Will they hang on?
Apparently so, I count 23 in the hopper for Day 3, which is Show us what is on cable channel ds106 (or make it up).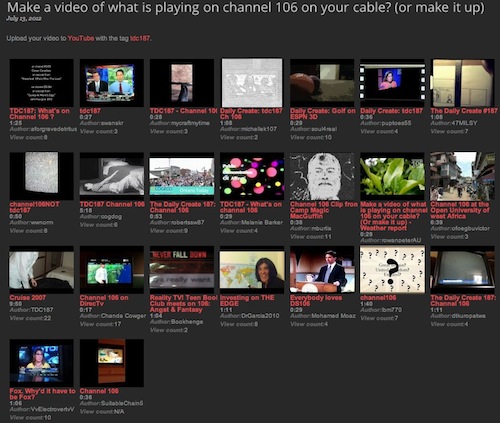 Now she says it strong, but I agree with Dr Garcia
@DS106TDC Dear everyone who FILMED a few minutes of their local cable 106, The only thing you MADE was two layers of crap. #ds106 #tdc187

— GNA Garcia (@DrGarcia) July 14, 2012
But hey, anything counts in The Daily Create. The real question will be, at the end of 7 days, what story can you weave from all 7 bits? It shall be interesting. Check 'em out, some favorites just below el fold…
Dr Garcia shows us how it is done with The Investing Edge (I think you can get this video at Walmart)
http://www.youtube.com/watch?v=iYKtFALUPJs
Melanie's station announcement assures use that no public displays of affection wil happen on this channel
Andy Forgrave does a nifty flip between analog and Digital Channels:
I like the any angle goes view here
And how could you not fall in love with an interview with the 11 year old artist of Instant Isaac comic?
Martha goes deep into late night programming with a trippy Camp Magic Macguffin highlight reel (I dig the ominous shadowy leader figure shown in the preview, is that Mr E?)
Look at what the channel's field reporters from Ghana have brought us? Amazing
With some great opeing ds106 graphics, we get to the bottom of what th eheck the United Kingdom is
And how my friend Dr Coop uses some video effect for home golf (I think I recognize her feet)
These are teh awesome! Only 4 more to go.