cc licensed ( BY ) flickr photo shared by cogdogblog
My current book reading is The New Kings of Nonfiction, a collection edited by my This American Life hero, Ira Glass (who oddly has no self maintained online presence I can find). It's a collection of stories that weave in the kind of storytelling and interest TAL conjures, from the published world of reporting where the story elements are often sifted out.
.. for a surprising number of reporters, the stagecraft of telling a story– managing its fable-like qualities– is not of secondary concern, but a kind of mumbo jumbo that serious-minded people don't get caught up in. Taking delight in this part of the job, from their perspective, has little place in our important work as journalists. Another public radio officemate at the time- a Columbia University School of Journalism grad–would come back from the field with funny, vivid anecdotes she'd tell us in the hallway. Few of them ever appeared in her reports, which were dry as bones and hard to listen to.

She always had the same explanation for why she'd omit the entertaining details. 'I thought that woudl be putting myself in the story.'

…

There's a whole school of reporters– especially ones who went to journalism school– who have a strange kind of religious conviction about this. They actually get indignant; it's an affront to them when a reporter tries to amuse himself and his audience.

I say phooey to that. This book says phooey to that.
I like books that say phooey.
A chapter I was just reading, called simply "Host", has been bubbling in my fore lobes, some because of the connections to ds106 radio, but also for this mix that occurs with the writer, David Foster Wallace, and his subject- political talk radio provocateur, John Zielger.
Wallace writes with this mixture of curiosity and disdain for his subject, but the latter does not get in the way of the former. What is interesting is how Foster has woven his commentary into an interesting structure of hypertext in print, pages have highlighted text which one infers to follow to the nearest call out box, and sometimes within there are sub links.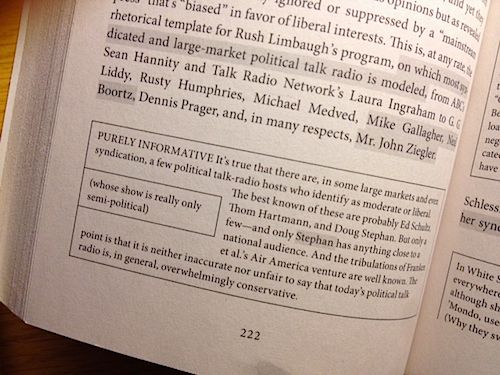 I was torn between whether this was disruptive or helpful, but in the end it fit the multilayered aspects of the story, there was the story on the main stage, but this kind of running commentary (I expect the first comment on this post will tell me to read Infinite Jest, already noted, ok?).
So there is some radio knowledge I picked up. There is this thing called a "Sweeper":
FCC regulations require a station ID to be broadcast every hour. This ID comprises a station's call letters, band and frequency, and the radio market it ius licensed to serve. Just about every serious commercial station (which KFI very much is) appends to its ID a Sweeper, which is the little tag line by which the station wishes to be known.
It's close to the bumpers we use on ds106, but in a way it's all most the opening audio you hear on ds106 radio when you launch it, the mix Grant Potter created way back when with the "Can You Dig It" call from The Warriors:
Wallace's text notes that bumpers ar emore the use of clips for popular songs to introduce a segment= he writes:
Bumper music is, of course, a talk-radio convention. Rush Limbaugh has a franchise on The Pretenders, and Sean Hannity always uses that horrific Martina McBride "Let freedom ring/Let the guilty pay" song. Mr Z. favors a whole rotating set of classic rock hooks, but is current favorites are Van Halen's "Right Now" and a certain jaunty part of the theme to Pirates of the Carribean
In a way this is interesting twist on the re-use of popular culture in perhaps different contexts than the artists might have written them.
The story highlights the audio wizardry that goes on behind the scenes, an operating system for managing content called "Prophet" (like ds106's Centovacast), how a staff member constantly monitors the sound levels to keep at perfect amounts to prevent peaking. This is a challenge on ds106radio as often the levels from different sources vary dramatically. We live with that.
Also radio calls "flub" what we typically call "futzing". I think you get it.
And there was a whole fascinating description of this audio device they call "The Cashbox"- since all "live" radio is on a 7 second delay, an audio box (Akai DD1000 Magneto Optical Disk Recorder) allows engineers to actually remove smal; bits of blank space or slightly speed up sound so you may not even hear it, enabling them to squeeze a 20 minute segment into 19. That may sound like trifling, but they are driven by the amount of time given to advertisers, and every second becomes precious.
As to the radio experience, Wallace captures what many people have found trying to broadcast something live:
To appreciate these skills and some of the difficulties involved, you might wish to do an experiment. Try sitting alone in a room with a clock, turning on the tape recorder, and starting to speak into it. Speak about anything you wany– with the proviso that your topic, and your opinions on it, must be of interest to some group of strangers who you imagine will be listening to the tap. Naturally, in order to be even minimally interesting, your remarks should be intelligible and their reasoning sequential- a listener should be able to follow the logic of what you are saying– which means that you will have to know enough about your topic to organize your statements in a coherent way (But you cannot do much of tis organizing beforehand; it has to occur at the same time you are speaking. Plus, ideally, what you're saying should not be just comprehensible, and interesting but compelling, stimulating, which means that your remarks have to provoke and sustain some kind of emotional reaction in the listeners, which in turn will require you to construct some kind of identifiable persona for yourself– your comments will need to strike the listener as coming from an actual human being someone with a real personality and real feelings about whatever it is you're discussint. And it gets even trickier. You're trying to communicate in real time with someone you cannot see or hear responses in real time…

Everything unspoken about you, your topic, and how you feel about it has to be conveyed through pitch, volume, tone, and pacing. The pacing is especially important.
(my emphasis) (and I left out much of the hypertext pullout commentary)
From my experience on the ds106radio, this rings true as to the level of energy, with one important distinction/advantage we have- we do get the live feed back through twitter, our audience is mostly/usually known to us. This in fact is one of the most fun and interesting parts. It is not broadcasting into the space of nothingness.
Another key section I found is related to the title of this chapter, "Host" – because the politcal talk radio personality is not the same (as the author describes) as the off air one, yet it is not an act:
But a host's persona is not the same as outright acting. For the most part. it's probably moer like the wat we are slightly different with some people than we are with others.
There was way more to this story than these bits, but I got a lot out of this understanding of commercial radio, and the dynamics in place there (and have no doubts about it, talk radio is big business- as Wallace writes, it's not about ideology, its about making money).
And its also helpful to be reminded that there can be a lot to learn by maybe something easily dismissed or scorned; I am not a fan of talk radio but find myself fascinated by how it works. Radio is a lot more than just talking or putting something into play, it is a performance, and it is still the energy, the unknown element, of being live that still makes it exciting