We know people love ds106. I love ds106. I know you do. My students this semester are doing some of the best work (especially in terms of representing their work online) I've seen since I started teaching this course in January.
The UMW Domain of One's Own greatly streamlined the startup process, Martha and I have made syllabus adjustments (introductory Bootcamp, re-arranging the introduction of audio earlier) that seem to have worked, and having redone the materials now three times, it feels very solid going into my next round (I am teaching it online again for Spring 2013).
My focus has been on our sections here at UMW, but we have a good amount of activity as well with Michael Branson Smith's York College/CUNY section plus Ryan Rish's class and Darren Crovitz's class at Kennesaw State University.
Yet I cannot help but notice the fall off among our open online participants. Where have they gone?
From the bits I scan, I can see Emily Strong has been one of the most active in doing assignments, and a few more in the mix, like Abigal Wellman, Sandy Brown Jenson makes stories all the time, John Johnson regularly riffs in, Leigh is doing bits of both phonar and ds106, Ben Rimes jumps in with assignments and nudges me about Daily Create stuff, Scottlo is audio casting his life in Saudi Arabia heck even Tom Woodward eeks out a GIF or a remix now and then… okay as I dig I see a steady current. This is good. Maybe more than I thought.
But it's nothing like that first year and many of the people who were most active are doing other things.
Now if regular CogDogBlog barking snarling fashion, I might be calling out people, asking "what is #4life"?. Shaming. But that is in no way my intent. And if anyone apologizes I might come over to your house and chew up your shoes or lift my leg on your couch.
If I were not teaching ds106, I would guess my amount of ds106 activity would be low. Once you have gone through the intoxicating round, its naturally to move on, to return on occasion. Like that weird uncle. Maybe not.
But we've not seen too many people new join in. And I could guess from here til Tuesday:
People are participating in peripheral ways, like doing Daily Creates or ds106 radio. This is good, Unlike any other MOOC, c or x, in ds106, you do not "fall behind" if you miss a few elluminated lectures or don;t do the weekly homework. The door to entry/exit is completely in your hands, and coming and going happens without penalty.
Maybe its the lack of Jim Groom who is onto amazing work with his hard boiled class. Jim would be the last to claim his presence makes ds106, but he is a draw. Heck its why I came to it.
It's messy. If you have heard of ds1206, when you get to the site, it's not even clear how or what to do. You are hit with a firehose. I've tried to organize an intro for open participants but I bet its not clear what to do. I have plans to work on this. More than that, after all the teaching that has been done, we have a rather extensive set of resources, recorded videos, various approaches to the assignments. My goal is organize them into a buffet type syllabus so that an open participant could pick and choose a path through the ds106 content.
I may have to repeat myself, this is no slap against all the people who freely played, shared, contributed in ds106 before. With the intensity of the load of following and mentoring 25 students, each blogging several times a week, it gets tobe a challenge to give attention to other work in the community. And while the class will go on regardless, ds106 is better for having the larger cloud of activity, so I am invested in finding ways to make it easier for people to craft their own ds106 experience, and get hooked on the kool-aid.
Hopefully it does not go down like this…
I could not resist doing a voiceover for the classic bit of Ben Stein improv — wait a minute, this is a ds106 assignment, redub the audio
Take a classic movie (or heck any movie you like), and rescript the audio of a key scene. You will want to re-write the lines to change the meaning or intent of the scene, delete the original audio, and record your own (this can be done many ways, voiceover in iMovie, recording the audio and editing the track in any other movie editor).
I already had this clip, so I imported it into iMovie, and muted the original audio. To get my own dub, I played the video on low volume (so I could try and track the rhythm) and recorded my own voice over in Audacity, reading the content of the ds106 Open Participant web page.
And woah, I totally forgot, when editing an audio track in iMovie, you have some effects available, so for the main track, I dropped mine a pitch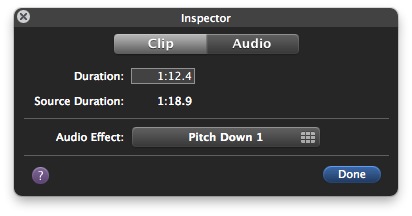 and for the closing credits, I took the "Anyone Anyone" audio (detached the sound from the video of the original), and used the echo audio effect.
I like that, I go on a ramble about ds106 and I end up doing an assignment.
I still dig it. You?