cc licensed ( BY ) flickr photo shared by desmorider
For as vast and accurate as Google Searches can be, I cannot help but raise a curiosity flag when it fails elsewhere. It still frustrates me how many clicks deep you have to go to the advanced search settings to have google search for images "licensed for re-use".
In a blog post from April 2012, Martin Hawksey pointed out something I had not known of before; inside of Google Docs, when you go to embed an image, and you use thee search, the default is actually for media licensed for re-use.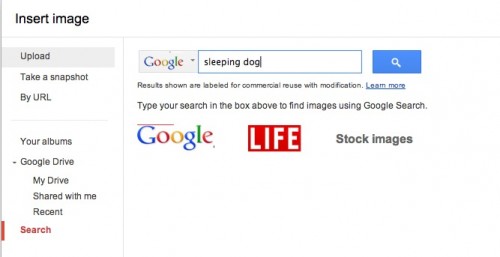 This is pretty cool, so if I am writing about being tired, perhaps I want to use an image of a sleeping dog; within the Google Docs image search, I see 60 results for a search on "sleeping dog". Wow, maybe Google does care about promoting licensed media.
Stop for a second.
On the main google image search, the default criteria is all media- to search for media licensed for reuse, you have to nose around the advanced search terms. Why on Google Docs is the default different?
Note also the curious rights statement it lists for the search:
Results shown are labeled for commercial reuse with modification
Nowhere in any of the Google sites nor its documentation will you see the words "creative commons" (nor "public domain"). What then is "labeled for commercial reuse with modification"? That would see Creative Commons By Attribution, right?
The explanation of this kind of search reads:
Anyone can find images on the Web, but usage rights come into play if you're looking for content that you can take and use above and beyond fair use. Site owners can use licenses to indicate if and how others can reuse content on their sites.

When using the Google Image Search feature in Google Docs, your results will be filtered to include images labeled with a license that allows you to copy the image for commercial purposes and modify it in ways specified in the license. Only select images that you have confirmed you can use legally in your intended context, including with appropriate attribution if necessary. If you find images with the wrong usage rights in the search results, please report them in the help forum.
I guess usage rights do not come into play on images.google.com??
And this is followed by the yellow block that martin called out:
Before reusing content that you've found, you should verify that its license is legitimate, and check the exact terms of reuse stated in the license. For example, most licenses require that you give credit to the image creator when reusing an image. Google has no way of knowing whether the license is legitimate, so we aren't making any representation that the content is actually lawfully licensed.
While this seems helpful, Google is saying, it's up to you, search user, to figure out the license, despite the fact that many times this information is included in the page, or within the markup of the page as metadata.
And as Martin pointed out, for many images the icons in the search results do not even match the image it links to. Look at this icon for 2 waterfowl:
Indeed, the credit for this image http://www.flickr.com/photos/jurvetson/4950032287/ takes you to this image:

cc licensed ( BY ) flickr photo shared by jurvetson
Nice. Search for sleeping dogs, search results show bird, and then I get active wolves.
So my curiosity is at how lame this image search in Google Docs is. The results are paltry and as shown above, just plain wrong. When I run a search on "sleeping dog" in the Google Docs Image search, I get a whopping 60 results.
60 results.
Is that all you got, Goog?
If I do a normal Google image search, using the same search terms ("Labeled for commericial use with modifications), I get over 200 results.
Better.
But…
Why the difference? Is Google tired too?
Let's not end there.
Next, go to the flickr creative commons search for the same search in the license for By Attribution.
I found over 3100 images of sleeping dogs in flickr. Google docs image search gives me 60.
It is bizarre that Google would make an arm wave at open content, then deliver it via crippled, broken search feature.
I am baffled.
And sleepy.

cc licensed ( BY ND ) flickr photo shared by °Cisla°