cc licensed ( BY ) flickr photo shared by RickC
Opening scene, a frenetic office space, rows of desks of young ambitious clerks on the phone, typing reports, several smoking cigarettes. Young Billy runs into the office of the office manager, clutching a report.
Billy: Mr Ritter! I found a violator of our copyright! This one has a segment of a Charlie Chaplin movie we own.
Ritter: Hand me that report kid. (scans). Hmmm, that looks like its a lift of our stuff. This guy has our video and just put his sound on it. DAMNIT When will those scruffy bloggers realize they are STEALING from us? Good work. Call YouTube and start the takedown process.
————————————-
I like to imagine what really happens when some entity gets YouTube to slap out a violation notice. I've not had too many, which may be luck, because I do some lifting of movie clips (nearly always stuff I find in YouTube itself) but nearly always remixed into something new.
It took them a year to catch up with me.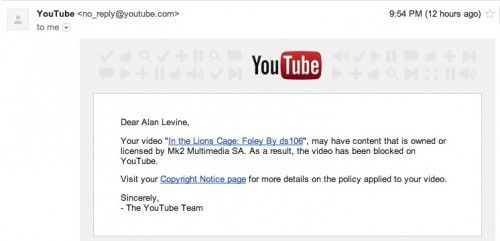 I am hardly the first nor last to get one of these, and like most people who do remix, first thought- WTF?
The "violation" is that a year ago, I found (on YouTube) a 2 minute clip from a 1929 Charlie Chaplin movie. I was teaching ds106 at UMW, and it was a great suggestion from Scott Lockman when I was teaching audio to come up with an activity for my class. I put them in groups, and assigned them each a 30 second section of the film. Their task was to improvise foley sounds that could used to create a new sound track in place of the music.
In class, I played back the video and recorded the sounds they made. I recorded their audio, later mixing it with the video to show as a result what the effect of this technique could be:
And almost 11 months later they have caught up to my criminal acts.
Is anyone a bit surprised that a silent films from 1928 is still copyrighted? First of all, the clip I used was about 2 1/2 minutes of a 71 minute film, 3.5% of the original. This was for educational purpose. And it is a *remix* it has a different audio track (me introducing, my students making sounds) that is clearly different from the original. No one would mistake our video for the original movie.
I think Billy in the Copyright Investigation room did not do enough homework.
What to do? I clicked the dispute button, outlining the points above.
————————————-
The scene: a cramped meeting room, men and women in suits rifling through papers, ash trays spilling over.
Ritter: Okay we have a dispute filled by this CogDog. I've called in our lawyer Flanders from Bite And Scratch to give us an opinion.
Flanders: I'm afraid you are on shaky ground here. it's really not a copy of your film and it ssuch a tiny segment. You know, you really should call us in on these cases.
Two hours of deliberation pass
Ritter: Damn, we have to let this one go. I hate losing! Johnson, call Billy and have him release this claim. Fortunately, we have 123 new takedowns in progress. Our work will never end as long as this so called artists keep taking what we own.
————————————-
And within 11 hours, I claim victory: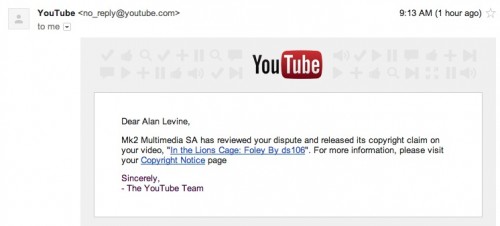 I cannot help but wonder how it really works and if how this system of automation can be seen as legitimate or even effective. Considering that elsewhere on Youtube is the entire movie
But I don't care a whole lot, cause I WON.