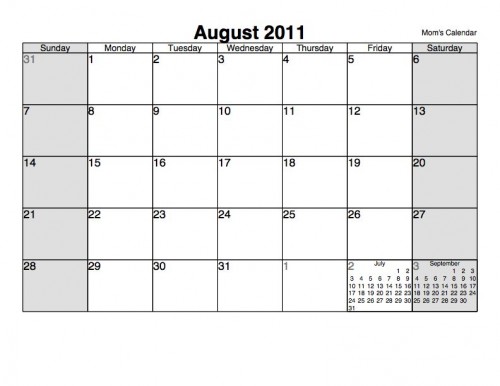 Digital stories grow in odd places, not quite limited to 8 minute personal videos. I am very drawn to ones that you find in unexpected places- such as Olivia Judson's recent New York Times piece.
In The Last Calendar, she relates the story that emerges from a shared Google Calendar she and her brother made to track contact with their ailing father who lived far from them both:
To try to cope better with this situation, my brother and I created a shared Google calendar "" an online calendar in which we could both make entries from wherever we happened to be. Each time either of us spoke to our father, we marked it in the calendar "" what time of day it was, how he sounded, what we spoke about

…

But the calendar had other, more subtle effects, too. It was, in essence, a journal kept by two people who read each other's entries, and so it gradually became a conversation between the two of us as well as a straight-up record of events. One day, he's infuriating my brother with speculations about two friends' having an inappropriate affair: "I said I thought he was being outrageous and that it was none of his business, even if his wild speculations were true. I hope he has the sense not to say anything to anyone else about his unfounded, wild, no evidence claims." Another day, I'm remarking, "I'm worried by the extent to which he does not seem to cook for himself anymore."

…

At the time, I was glad we kept the calendar because it helped us to cope with a difficult situation. Now I'm glad for a different reason: it helps me remember small details about him, the little things that slip out of memory, that fade with time. Laughs, tears, worries, frustrations, joy and love "" it's all in the calendar.
This exemplifies what I have learned from my experiences teaching ds106 and just practicing stories. There seems an assumption that the media created is the story, that its all neatly self-contained in a video, animation, written piece, photo essay. People struggle with can something like an animated GIF be a story? a mashed up movie poster?
This is a limited view of story.
The stories exist in our relationship to these media, the context, the stuff that swirls amongst the fragments that are just media. Frankly, to see story as being solely contained within one collection of bits and bytes is… sadly limited.
So look up from the digital media and consider what stories they can perhaps stimulate, or remind, or just retell in us.
I write this because… I have my own calendar story.
For years when she lived in Florida, 10 years, 20? my Mom bought each year one of those blank wall calendars where you write in the dates and months in blank boxes. She would then faithfully hand write entries from the previous year. Over the last few years more and more entries marked Yahrtzeit – the dates when people she new had passed away and she would light a candle to mark it (she had a cupboard that had dozens of the little candles)
By the time I last saw here with it in February 2011, there were entries in almost every box, many of them the passing of friends in her neighborhood, names I did not know, but also birth dates, anniversaries of just about every cousin and cousin's nephew, and cousin's nephew's spouse in the family tree.
She even had a code system, a (b) for a birthday (a) for anniversary, (y) for yahrtzeit and the number of years since
She marked dates that marked the births and deaths of dogs my sisters and I had. In fact, we had a laugh and a play disagreement because she called once to let me know she was thinking of Dominoe on the date in July my first dog passed away. She had in her (paper) calendar as July 24, and when I checked my own (digital) one I said, "Mom, thanks but it is actually July 26." She was insistent on the accuracy of her calendar because of her meticulous bookkeeper method. I was insistent because… it was my dog! We laughed like always.
Guess how it appears in my Google calendar now?
When my sisters and cleaned her house last year, we had many warm memories. I am not sure if we kept that last calendar, which was, as always, attached to the side of her refrigerator. I, for one, could not see doing it "mom's way", so I went through the calendar, and created a new Family calendar on Google that I share with my sisters. I changed the date method, since Mom would have to update the number every time she copied over; I record the year it represented. The method does not matter.
But the stories and memories come most from the odd events she chose to track.
January 10: Mom Face Fall (2003). Mom was delivering some homeowners paperwork to a lawyer, and she accidentally tripped on a crack in the sidewalk, and hot it hard with her face. It was not pretty! She even sent me a photo (not in my email, she had to developed and sent in a letter), and it was horrible! Her face was black and blue, like she had been beat up in a bad bar fight.
January 16: Honey Y (2004) My sister's first sheltie. Awwww
April 7: Harriet's Nose (1967). A nose? Yes, this happened when I was only 4, but my ssister had been sitting on a fences at the school across the street, watching the pony league baseball players practice. An uncaught ball caught her square on the nose! There were ambulances and all. I get a reminder every year.
April 23: Mom Hysterectomy (1968) Does Hallmark have a brand for this? Why is this on the calendar? I can only imagine it was memorable. My memory was playing outside, slippped, and hit my head on the bench. I ran in the house crying to look for Mom and she was gone. I think maybe my grandmother was there, as Mom had been rushed to the hospital (in an ambulance?) I missed it completely. But that thought of Mom being gone? It resides in me every day now. At age 5?
July 18: Gert Hammer B (1916). I barely remember Mrs Hammer, she was a friend of my grandmother, and she was an Artist with a capital "A" a Painter. She lived in a small apartment with a living room full of easels and paint and watercolors. Mom said she was loathe to part with her paintings, so it was memorable when she gave me a small pen and ink drawing of some abstract shipyard. I still have that in my bedroom, along with a few more watercolors.
September 3: Cousing Bobby Y (1984). Mom's eccentric cousin. The story I know is he worked at the Post Office in New Jersey, and saved his money for his international trips to other countries. We would get this postcards from Austria, Bolivia, India and it just read "Hi From Austria! Bobby". Maybe in some way he inspired some interest in me in travel, but more, it was a thing I emulated in 2011 when I wrote Mom a similar style postcard from every state and province I visited. Sadly, the day I bought her one in Ontario was the day later I got the call she had died. I hand delivered that last postcard.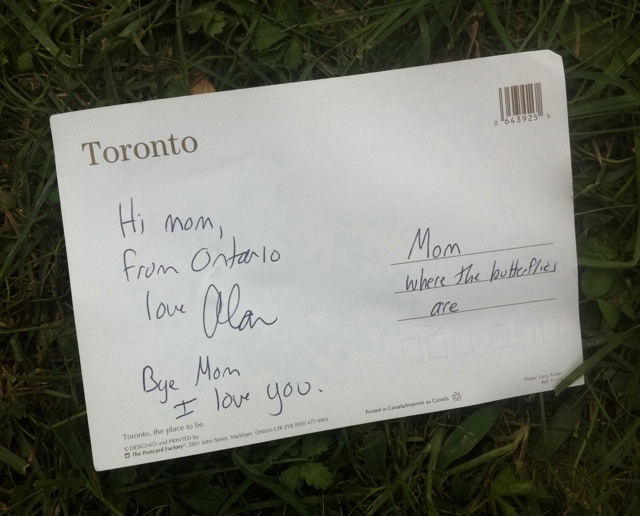 October 15: Grandma Janet Levine B (1907). My grandmother, born into a poor couple in Newark New Jersey, lost her own mother at a young age, but also never got an official birth certificate. It was much later in life she was able to get one because a census taker had noted the number and ages of children in the home, and Granny was finally able to get that piece of paper. She ended up having to pick a date in October, so she chose the 15. I always teased her that I wanted her to live to 100; she made it to 98, and that was just fine.
November 6: Mollie Y (2002). "Aunt Mollie" was not my aunt, but Mom's best friend from high school. They were life long friends, and for all intensive purposes, she was my aunt. She was always fashion conscious, I can recall them sitting together (in the 1970s) yacking and smoking cigarettes. They were life long friends, and I know Mom missed her much when Mollie passed away.
There is much more there, many family names for cousins and relatives I barely remember and rarely or never see.
The calendar itself is not a story. It is an enabler of the ones.
I am flowing with re-energized memories just having gone through it to write this post. Stories aren't wrapped neatly inside videos, photos, scrapbooks, those are just the memory sparks.
The stories are in us, between us. it takes no special skill to know them, it's in the heart.
They reach up from unexpected places, a flower underfoot in the sidewalk. Stop once in a while from the business of the day, and pay attention to those flowers.