cc licensed ( BY SD ) flickr photo shared by cogdogblog
A bit earlier I looked into my rear view mirror at last semester's ds106 class I taught online for the University of Mary Washington. Since then I have been deep inide the bowls of the ds106 ship, doing quite a bit of organizing and tuning of the engines, as well as planning the course for the Spring semester class which starts.. today!
In this post, I am going to outline some of these changes – a reorganization of the front of the ds106 site, some more orientation/help for people just stumbling into the site as well as some ideas of things I am going to try new with my class.
I will beed to do a part 2 write-up on the under-the-hood changes in the wordpress site, database cleaning, plugin purging, which hopefully will make it run more smoothly.
Spiffing up the Front Door
The major site overhaul is the front page. Previously it felt cluttered and dominated by the blog flow of the posts coming in form several hundred blogs we subscribe to. The rate of flow is high, so it hardly serves a purpose, and the sidebars were cluttered. One of my goals is to make it less confusing to people who first come to ds106.
I decided to use a lot of the features of our Salutation theme – columns, call out boxes, tabbed pages, icons, shortcodes. I finally understand a lot better how its templates and parts work together, although I know have a bit of a duct tape in the background including static blocks with embedded widgets or widgets with embedded static blocks.
If that means nothing to you, then I have done my work. Mumbo Jumbo blumbo gumbo.
Here are the parts of the new welcome to ds106, where I have shifted the blog flow away, and set up a Page as the default view.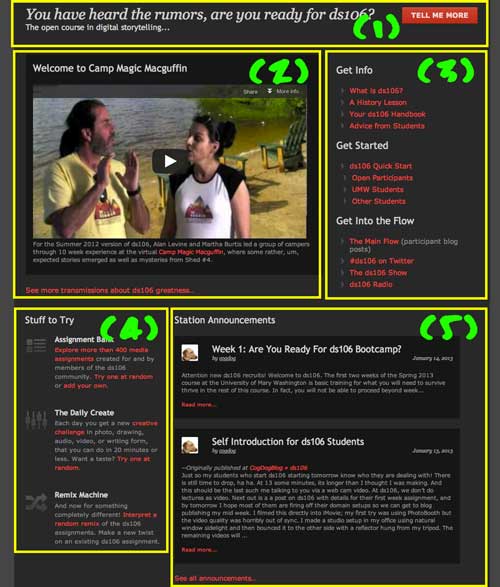 The parts are:
The sections are done via a theme layout builder where I mixed different sized content areas: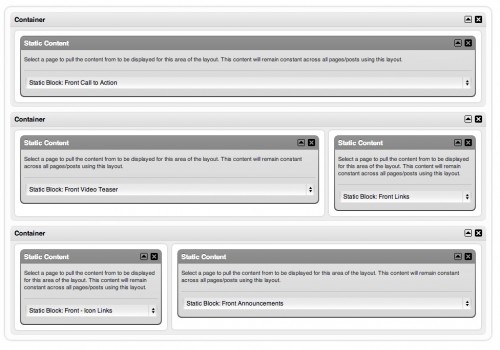 I also edited the base style to make the font a tad larger; it was pretty tiny before.
Helping People Out What to Do in ds106
To help people orient, I opted to make a 3 part track, starting with the Quick Start page (which lives inside the ds106 handbook)- these are meant to be quick check list items for Open Participants, UMW Students, and Students who are in other classes that are integrating in to ds106.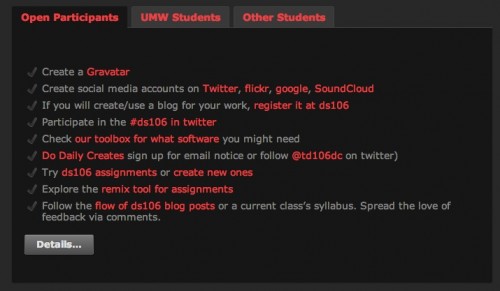 This is nicely done with built in shortcodes for a tabbed page layout, so you can fit more information in less space. Each tab is a shortened list summary of longer sections (where buttons at the bottom link to)
Please consider this a first draft. I desperately seek feedback.
The thing which I would most like to improve is a better approach for letting open participants figure what to do in ds106. You see, every other MOOC (x or c) has the attribute of a common schedule and path- everybody pretty much does the same thing. That's what makes them courses. And that is fine.
But in ds106, there is no single course. There is what I am teaching now at UMW, we have other classes with different syllabi like Bill Generaux at KSU and Brian Short at University of Michigan. So what is an open participant supposed to do?
I wrote a few suggestions into the getting started guide, but I have a grander idea.
For lack of a better name, I call it the ds106 Syllabus Builder. After several years of ds106 being taught by Jim Groom, Martha Burtis, and me, we have quite a collection of various lessons, readings, videos, assignments, and archived audio and video of guest visits. I'd like to organiza all of this as a database resource, so visitors to ds106 could, say build their own ds106 syllabus, picking and choosing the pieces. They could even say, "All I want is some material in Audio and Video". This would be saved as custom pages they could then make their own ds106 course, or share with others.
I can conceptualize it, and see how to build it with the tools at hand.
Organize/Generalize the Assignment Bank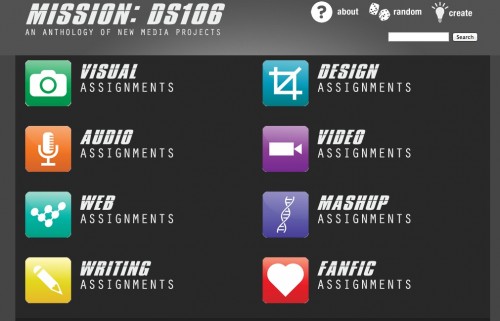 The ds106 open assignment bank may be my favorite part of our fleet. It was a brilliant idea spun by Tom Woodward when the first open class was started and implemented by Martha Burtis. It becomes the core of the work we assign students in the UMW course.
The site could really use some generalization to be its own wordpress theme, so people could build their own categories. A number of the templates are hard wired to our site. I've been tinkering and adding features for a year, but when i look at it, the design is somewhat limited by the graphic layout of icons for menus.
I duct taped in a new section for animated GIFs and recently Mikhail Gershovich had the interesting idea to build a place for 3D printing assignments:
@cogdog @timmmmyboy @jimgroom @mburtis How about a "Make" section for the #ds106 assignment bank? I'll gladly contribute some ideas.

— Mikhail Gershovich (@mgershovich) January 11, 2013
My first thought was, thats a stretch, but the more I brewed on it the more I like it, especially to think about the potential for storytelling that bridges real objects and digital ones. And woah, Remix? I'm on it Mikhail.
I'd also to build in a common top menu system like we have on the main ds106 site and the Daily Create site, to make it easier to move around what is now more than a single house, but maybe a commune.
I'm thinking of making the assignment types a menu-driven navigation, and do something with the icons on the front to make it not all graphics for the text. We have some categories we use much more lightly (Fan Fiction and Writing) so maybe there can be a two level navigation structure.
This is something I hope to tackle soon. We also have a fair bit of pruning of assignments; a lot of ones that get submitted really do not… well feel like great assignments. But quite often they are easily moved into being a Daily Create.
Ideas for my Class
My focus for the next 14 weeks really is on my 26 UMS students. I'm super pleased with the course structure Martha and I evolved last semester, and I have already filled that in to the Spring 2o13 schedule.
I do have some new things to try, many of them focused on getting the students more engaged in and with the ds106 community. It takes almost the entire semester to get a core group of them beyond the normal mindset of a course as what I call the assignment Mindset. "What do I need to do to get the Points?" or actually "What is the least I can do to get the points?" I want to unleash them from the Pavlovian system of Teacher Says / Student Does.
Many students eventually get it. Consider this final reflection by Cap'n Tony, who faithfully carried a pirate ship theme all semester long, but started out with really skimpy blog posts:
So what more can I say about digital storytelling that I have not already said this week? Ahhh maybe I should be thankful for my opportunity to take part in such a unique online class. Some last minute brown nosing is definitely in order. I would like to thank my professor Alan Levine for all he has done for us throughout this semester. With his help and the help of this class along with the help of my fellow students, I have a new outlook on Digital Storytelling. I look for video editing and new ideas in every video I watch now. It is a curse, I used to just mindlessly enjoy them. Nah that is not entirely true. I was getting ideas from video and applying them to life and new ideas before this class, I just was not aware of what I was doing. I do this to the radio now too. When listening to broadcasts, I now know more of what goes into the broadcasts and the ideas behind loud noises and soft noises. Furthermore, I get to understand the ideas behind the design of anything that gets designed. Photos, billboards, webpages, houses, pretty much anything that is designed, I understand better. In closing, I have known through my collage career that you can utilize every class in any other class you take, and I know that this class will come in handy as I continue my major and future endeavors. That being said I leave you with one more borrowed and edited phrase. Cap'n, out!
These are really just quarter cooked ideas. That means I am looking for feedback. Or suggestions. Or "OMG that wil; never work."
The ds106 Show is an idea to bring back the live event, to bring back the visits from experts and friends, and to make it a participatory experience, not a broadcast one. I am playing with a metaphor of a tacky 1960 talk show, and in fact, I am thinking of using the same movie structure each week for an opener, but change out the silly commercial blurbs, and record a new voice over for that hosts same video appearance.

But the other plan is to have students required to be guests on at least 2 shows a semester. I am thinking of doing this by making each episode a group signup in our Canvas site. I want it to be where they tell us what is going on, or even a bitch and moan session much like Jim did in 2011.

It is also a chance to bring in my frinds and colleagues as outside people with ideas, suggestions to share. This is lessof them coing in do do a presentation to my class, and more to be a free form open discussion of media, internet culture, creativity, funny dog videos, etc. It will also have key tips aimed at my students

These will be run in Google Hangout and archived for prosperity. The working schedule is Tuesdays at 4:30pm EST. The rub with hangouts is there is no way to have a URL until it goes live, but for now I will say the launch point is my Google+ profile which will always shoe a button to enter a hangout I have started- get there via http://bit/ly/cogdogplus (can someone get Google to understand that their long URLs are BUTT UGLY and UNWIELDY?)

My idea last semester to hold Google Hangouts for office hours had marginal success. It seems perfect; I can see my students, they can see me, we can share screens, can demo software. In the first few, I had some success helping out, but you know, as a thing to do on a volunteer basis, students will generally opt out. I would.

The new thought is doing the same thing, but not calling it "office hour"s, but an open lab. I will be working on the same assignments I ask my students are doing, so why not work on my stuff live? Anyone can come in and ask questions, I can do demos, etc. For now, I am thinking of doing these Thursday evenings. Stay tuned.

Comments and Twitter Participation are always an uphill battle. People do it once they see the value, but the last thing I ever want to do is put out a grade requirement of something like "5 comments per week" which leads ultimately to a whole raft of "nice post" ones. That is the wrong incentive.

The approach I am thinking is from the other end- it's a student's responsibility to find ways to get (useful) contents on their own blog. They have to figure out how to invite people in. So in their weekly writeups, I am thinking of asking them to reflect on/write about the most constructive comment they got that week. So if they don't recruit, they have nothing to report. And if they just have a string of "Nice post" ones, then they have to tell me how that is constructive.

To get started, I would likely ask them to also share a link to a constructive comment they made elsewhere.

I won't give up on comments; I think they are a catalytic glue that makes blogging work. We all crave to be heard, so why should ennot be more direct about listening to others?

I'm also lucky to have participating again as more like a mentor/TA, Haley, a student from last semester, who got so infected by ds106 that she is changing her educational goals. She is doing a special UMW research project on ds106. I am suggesting that focus on the student experience – for all the research and writing of open courses, 98% seems to be from the teacher/institution perspective. She has a unique advantage to bring light to the student view. I hope she will be co-host on the ds106 Show and be available as a helper to my students.
Anyhow, it's time to get rolling with this. I am already jazzed because the first 5 students who have announced themselves on twitter show obviously that they know the medium. They are not egg icons with 1 tweet. I have students telling me of their 10 years of web experience. Look at my student Amber who has a youtube channel that shows her voice acting talent – she has over 800 subscribers and over a million views.
I think she will have stuff to teach me!
This could be the most wild ds106 class ride yet!
So why not join along? See our updated About page, the history of ds106 archive. Get a blog lined up, and register it to be part of the ds106 flow.
And you know, make some awesome art.